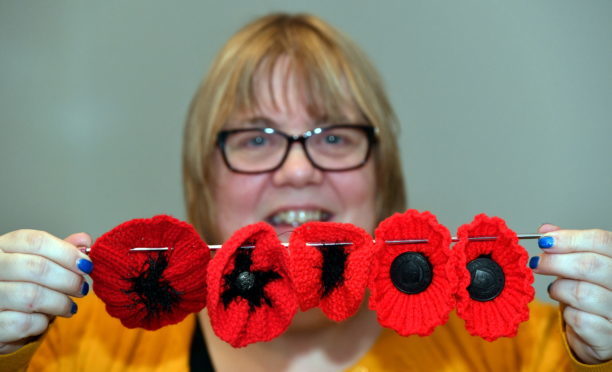 Knitters from across the north-east are being urged to lend their support to a new project commemorating the centenary of the end of World War I.
Around 10,000 poppies will be needed for the art installation, which will take shape in Peterhead in November.
The knitted flowers would be hung from a wall and cascade down to the ground to mark the moment the conflict came to an end 100 years ago.
Nancy Duncan is the woman behind the project and she is hoping to recruit an army of volunteers to bring it to life.
The oil industry worker from Peterhead hopes the display in the Buchan town can make a similar impact to the installation that attracted thousands of visitors in London.
Miss Duncan said: "The poppies will be woven into a fishing net to create a look very similar to the Weeping Window at the Tower of London.  It will drape down from the wall and onto the ground.
"It is something that lots of folk have shown an interest in and I just think it is a great opportunity for the community to come together and do something special.
"The Baptist Church in Peterhead have offered to hang it from their building.
"The Old Parish Church is an option too because you can see that coming into town, but it really depends on where the council are willing to give planning permission for it."
Peterhead North and Rattray councillor Dianne Beagrie said she was happy to give the tribute plan her full support.
She said: "It is a great idea and I am delighted to back Nancy with this project and support it in any way I can.
"I am sure the community will all rally round and make this a project Peterhead can be proud of.
"I can't wait to see it all put together in November."
Anyone interested in taking part in the project can contact Nancy Duncan on 07483 223087.