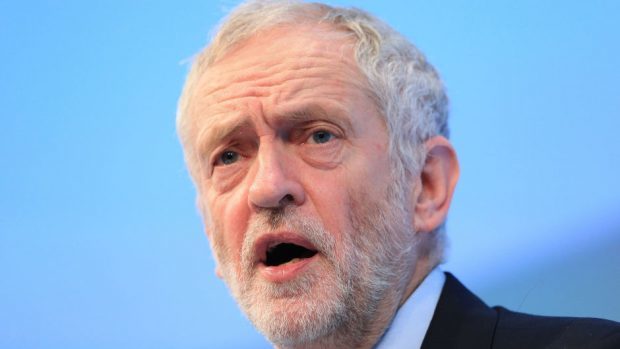 Jeremy Corbyn will today highlight SNP backing for Donald Trump's north-east golf course as he casts Labour as the only party willing to stand up to the US president.
But even before he arrived north of the border, Mr Corbyn was accused of making a "gaffe" for describing the Aberdeenshire resort as being "in Aberdeen".
The UK Labour leader will deliver his keynote address to Scottish Labour's spring conference at the Caird Hall in Dundee this afternoon.
He will use the speech to declare that "Labour in Scotland is back", having defied its detractors who claimed in recent years that the party was "dying".
And Mr Corbyn will also launch an attack on Labour's opponents for failing to challenge Mr Trump.
"While the SNP wooed Trump to build his golf course in Aberdeen, and Theresa May appeases him as she bets the UK economy on a race-to-the-bottom trade deal with the US, Richard Leonard has shown Labour is standing up to oppose the racism, misogyny and dangerous belligerence coming from the US administration," he will say.
"A Labour government will ensure that our international relations are not dictated by the global dominance of multinational corporations, but are governed by the values of socialism and international solidarity, and shared progress in the interests of working people across the globe both inside and outside of Europe."
But the Conservatives and SNP accused Mr Corbyn of making a blunder over the location of the golf course and for saying Scottish Labour had won six Westminster seats last year – when the party secured seven.
Scottish Tories deputy leader Jackson Carlaw said: "Even with just a handful of Scottish Labour MPs Jeremy Corbyn can't get the number right.
"And given he thinks Donald Trump's golf resort is in Aberdeen, when it's actually half an hour's drive north, shows his geography skills aren't up to much either."
The SNP's George Adam said: "Scottish Labour's MPs have made such little impact that Corbyn doesn't even know how many there are.
"Once more it's completely obvious that Corbyn doesn't pay the slightest attention to Scotland."