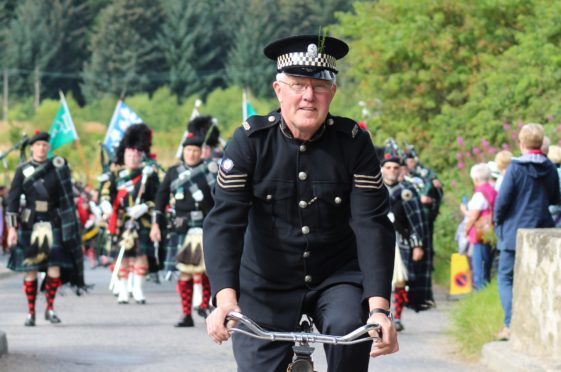 For the past 12 years he has led the iconic marching Lonach Highlanders through Strathdon into the central games arena, marking the start of the Lonach Highland Games.
Retired policeman Jim Mitchell, known as the Bobby on the Bike, is now taking on a more rigorous challenge with his 1936 police bike as he lines-up for next month's Etape Loch Ness long distance race.
Mr Mitchell, 62, is raising money for the cancer charity Friends of Anchor ahead of this years' Gathering.
Last night, Mr Mitchell said he was looking forward to the challenge and explained he would also be undertaking an extra 24 miles on the vintage bike.
He will also be ditching the normal lycra cycling gear for a woollen 1930's policeman's uniform.
"I'm going to swap onto a road bike for the main part of the race, but I'll be on the old bike for 12 miles before and after – just to make it a bit more challenging," he said.
Mr Mitchell was himself diagnosed with leukaemia in 2004 but has since been given the all clear and regularly gets checked to see he is still in remission.
The Lonach Highland and Friendly Society, which arranges the annual Lonach Highland Gathering and Games, is holding a party later this month to raise cash for Friends of Anchor and Pulmonary Fibrosis.
Jennifer Stewart, the society's chief executive, said: "It is shaping up to be a great night.
"It is fitting that we are supporting two charities that have a close personal connection to individuals who have played their own important roles in the society and local community over the years.
"We look forward to welcoming a good crowd to the Lonach Hall and raising a significant amount for Action for Pulmonary Fibrosis and Friends of Anchor."
The Halfway to Lonach party will be held on Saturday March 31 and will feature music from local band The Fundamentals, a raffle and other entertainment.
Tickets cost £12, and can be bought by e-mailing info@lonach.org.