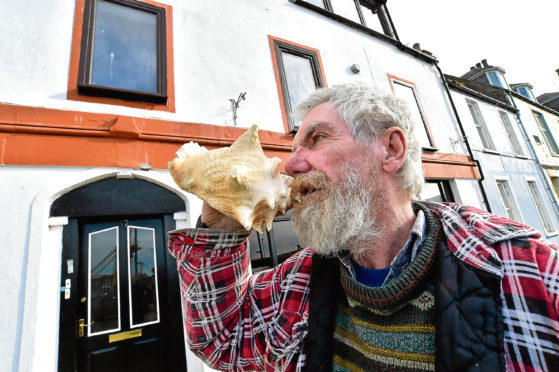 A north-east couple's dream of providing shelter to fishermen from across the world has moved a step closer.
Susie Seui and her husband Jim Perry were given the go-ahead by the council to convert the former Bayview Hotel in Macduff into a trawlermen's refuge in January.
Since then, they have been busy making the Shore Street premises wind and watertight with a series of upgrades.
The building's windows have been renewed and it has been repainted. Its roof was also repaired after the owners secured a funding from the Macduff Regeneration Grant.
The couple marked the removal of scaffolding around the premises by blowing a conch shell, which is a ceremonial ritual from the Pacific used to mark the announcement of special occasions.
Fishermen from around the globe have already begun to use facilities at the refuge.
Soon they will also be able to make it their temporary place of residence, though they are many miles from home. Mr Perry said that after almost a decade of neglect, during which it visibly deteriorated, it was fantastic to see the building being returned to life.
"After eight years of dereliction we have brought the building back to its former glory," he said.
"There have been a load of local companies who have helped us.
"The good thing is that the scaffolding is now down and we can enjoy the view we bought the place for.
"We are already getting a lot of fishermen in to use the free wifi, from Ghana, Sri Lanka and India, and they bring tributes for local people."
Over time, the fishermen's refuge will include a hobby room, social area and tuck shop and there will be enough beds for a 10-person crew, as well as a prayer room.
Mr Perry and Ms Seui will continue living in a private flat at the hotel, which they bought in October, 2016.
Ms Seui said: "I blew the conch shell because in the Pacific, shells and wooden drums are used to announce important things.
"I honoured the men who did the work," added Ms Seui.