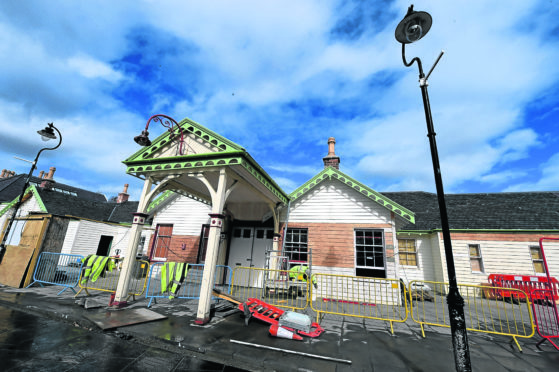 A Deeside train station damaged in a huge fire will reopen in time to capitalise on this year's lucrative tourist season.
The Old Royal Station in Ballater was used by the royal family to travel to nearby Balmoral until the 1960s and has become a popular stop for visitors.
The B-listed building was, however, engulfed in flame in May 2015 and ever since has been the focus of a £3million restoration project.
Now it is hoped the station will open its doors once more this summer with an official opening pencilled in for the autumn.
The royal waiting room is being painstakingly restored using some of the original materials and a royal carriage will be on display.
The rejuvenated attraction will also boast a restaurant run by the Duke of Rothesay's charitable trust, a tourist centre and a library.
An Aberdeenshire Council spokesman said: "Construction activity at Ballater Station continues with progress now on the finishing elements of the build.
"The Royal Waiting Room interior is being carefully repaired by specialists to ensure the quality is equal to that lost in the fire.
"As part of the repair and conservation work, as much of the original fabric as possible is being retained.
"A new, revamped public square is proposed for the front of the station, linking it to the nearby Victoria and Albert Halls and creating a destination point for the Deeside Way."
The spokesman added: "The project team are working to ensure that the facility is open during this summer season to assist the town benefiting from the resultant tourist trade.
"Formal opening of the building is expected to follow in September 2018."
Aboyne, Upper Deeside and Donside councillor Geva Blackett believes the station will provide the village with a boost once it reopens.
She said: "The station is making good progress.
"Everything is looking good for the library and visitor centre to move in during the early part of the summer, with the dining facilities hopefully following in the early autumn.
"It will bring back the centre of the village and there will be a really good place for people to get information from about the rest of the area."