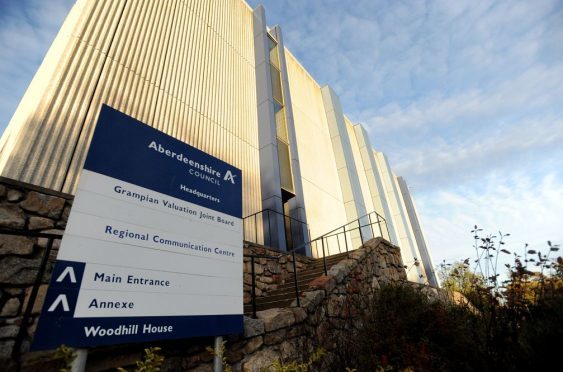 A political row has been sparked over a proposed U-turn on the sale of a north-east council's headquarters.
Aberdeenshire's councillors have been urged to retain Woodhill House and scrap plans to relocate to Inverurie when they meet next week.
The authority first mooted selling off the Westburn Road site, Aberdeen, back in 2016.
Council chiefs had proposed purchasing Inverurie Locos FC's ground at Harlaw Park and converting it into its main office, while also selling off its Gordon House site.
But earlier this year the Press and Journal revealed that this plan had stalled and was likely to be scrapped after negotiations over the sale price stalled.
Now officers charged with looking at the best options available have recommended officially rejecting this option.
But last night, the leader of the opposition claimed they were being rushed into a decision amid "political turmoil" within the ruling Alliance administration.
It comes after council and Tory group leader Jim Gifford successfully fought off a challenge from Colin Pike.
Richard Thomson, leader of the Partnership group, said: "The interest by NHS Grampian in the Woodhill House site is very welcome. However, any agreement is likely to be some way off and even if it can be reached, still leaves an annual six-figure funding gap which the council will have to fill. For that reason, it's premature to let this decide our future plans at this stage.
"People will find it hard to understand how a proposal to decentralise and save money has ended up as a recommendation to centralise which could end up costing money. This is an issue too strong to important to be left to party politics and I call on the Alliance administration to allow their members a free vote on this issue."
In 2015, the SNP-led coalition seized power from Mr Gifford and the then Tory-led administration after three senior councillors switched sides – including current Partnership education convener Alison Evison.
The preferred option would mean retaining Woodhill House but transforming into a shared public sector HQ, with talks under way with NHS Grampian to occupy part of the site.
The fresh plans would still mean selling off Gordon House but now includes an expansion of the town hall to help accommodate some council staff and also to allow it to be used by the community.
Car park conversion
It is likely the former Market Place Primary site in Inverurie would be converted into car parking for council staff during the week and public spaces over the weekend.
And if councillors agree to the latest proposals Colony Park Football Club, which caters for under-sevens to under-19 level, will no longer have to be relocated.
It comes just days after the council approved the £15million expansion of the new Garioch Sports Centre, which will likely host the Locos fixtures in the future.
A further aspect of the authority's efforts to "consolidate" and sell off its offices in Ellon and replace them with one larger building on the former academy site.
A similar plan would be moved forward for Stonehaven, with a refurbishment of Viewmount, a new service point at Allardice Street, selling off Carlton House and office space at Arduthie School.
There are four other options on the table for councillors, however they have all been deemed to be unacceptable by planners for a variety of reasons.
The NHS confirmed talks were ongoing with the authority but no agreement had been reached.
A spokeswoman said: "As the paper lays out, we are exploring in partnership with the council a number of options regarding the future use of Woodhill House, much of which has been dependent on Aberdeenshire Council's own office requirements.
"It must be stressed that we are at the beginning of a process and we have not reached any agreement with Aberdeenshire Council. As the paper states we will endeavour to work jointly with the council through the options to reach a conclusion within nine months."​​