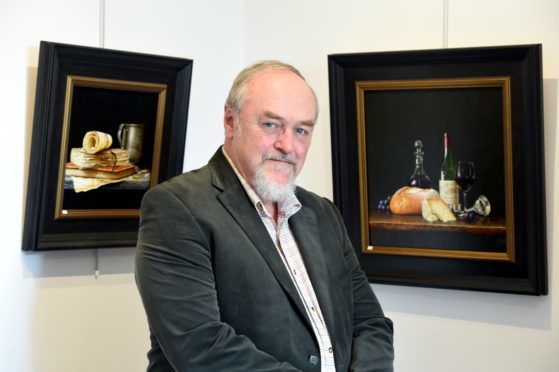 An Australian artist travelled across the globe to add an extra splash of colour to an exhibition of his work.
Ian Mastin decided to jet from his Queensland home to the north-east to meet fans of his art at the Tolquhon Gallery, near Tarves.
Mr Mastin has long-standing links with Scotland, having lived in East Lothian for a decade in the 1990s, which was also where he first picked up a paintbrush on a professional basis.
The former pest controller decided to hop on a flight from Brisbane less than a week ago to give visitors to the exhibition a unique opportunity to pick the brain of the man behind the stunning still life works.
The 69-year-old said it was a "mutually enjoyable" visit for both him and his admirers.
He decided to fly over after chatting to gallery owner Joan Ross about his work.
He said: "It was quite a strange set of circumstances really, I was speaking to the gallery to make sure they had received my paintings.
"Joan was telling me what good feedback they had from the invitations and I went through to my wife and said how lovely it would be to go the private viewing.
"She said I should go and before she could change her mind I'd booked the flight.
"People have this idea, and I did too before I started, that artists are on another plain.
"But actually it's very enjoyable to meet people who admire my work, who for want of a better term pay good money for it."
Mrs Ross, who owns the gallery with her husband Danny, added: "It makes such a huge difference to us as people are really keen to speak to artists about their works.
"We generally focus on artists who are Scottish or live in Scotland so it's a rare occurrence that someone would travel as far as this – it's an exception but he's exceptional."
The exhibition, Ian Mastin – Intimations of Life, runs until May 15.