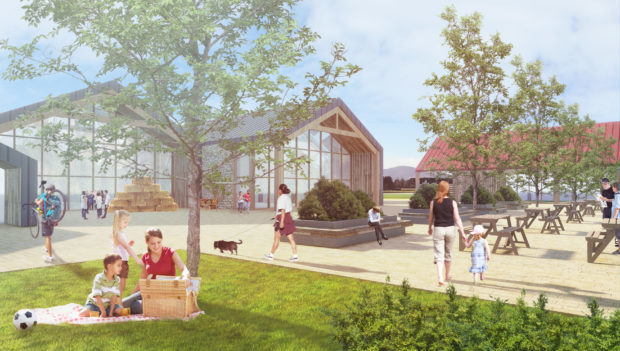 A major roadside restaurant, petrol station and hotel complex has been backed by councillors, despite planners urging them to reject the proposals.
The Mains of Luther site – which would take shape just off the A90 Aberdeen to Dundee road – would be inaccessible to HGVs and would consist of a farm shop, restaurant, cafe, steak house, small hotel, a petrol station and four shop units which are aimed at local businesses.
Yesterday councillors on Aberdeenshire Council's Kincardine and Mearns area committee were asked to consider an application for planning permission in principle for the scheme, with the recommendation that they reject it.
The authority's planners had a number of objections to the scheme, with the main ones being the lack of public transport and cycle routes serving the facility and the scale of the 10 acre site for its countryside surroundings.
Calli Hopkinson addressed councillors on behalf of developers Luther Farm Developments, the company name of the Robertson family who have worked the land for four generations.
She said that were currently 16,000 people travelling up and down that section of the A90 every day and described them as "lost opportunities".
Ms Hopkinson said their vision was to showcase local produce and local businesses and draw people into the Mearns.
And she also said that, while there was limited public transport currently passing the site, it was a "chicken and egg" situation and operators would be attracted to the site.
Jo Robinson, Visit Scotland's regional spokeswoman for the region, also spoke in support of the plans.
She said that food and drink had become a big draw for tourists and the Luther site would help promote local produce.
The tourism boss said that with the potential for an Angus and Mearns tourist route in the mode of the North Coast 500 the facility would be in demand in the future.
The committee also heard from those who were opposed to the scheme, including Phil Swire, whose family own and run nearby farm shop and country house Balmakewan.
Mr Swire said he was concerned about the impact it could have on his and other smaller businesses.
He raised question marks over the developers' assertion that people stopping would then explore the area or stay long enough to sample the food on offer.
"I don't think they will be serving canapes on the forecourt," he added.
Mearns councillor Leigh Wilson said he backed the proposals and believed that businesses in the area would be able to "hunt in packs" to attract tourists.
Mr Wilson said planners' objections were overridden by the economic benefit the facility would bring and put forward a motion in support of the plan.
An amendment was moved by Provost Bill Howatson to reject the development but this lost by two votes.
The application will now go to the council's infrastructure services committee for final approval.