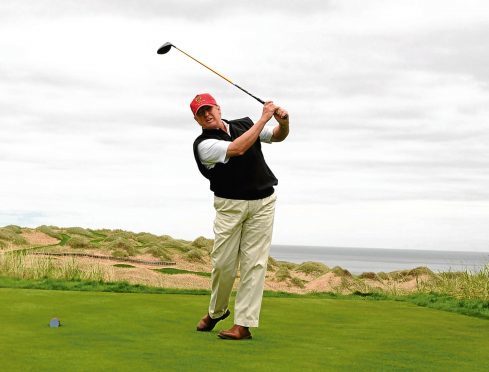 Donald Trump could extend his visit to the UK in the summer so he can play a round of golf.
Mr Trump is due to make his first presidential visit to the UK after attending the Nato summit in Brussels on July 11 and 12.
The White House and Downing Street have confirmed he will hold talks with Theresa May on Friday, July 13.
And yesterday it emerged that he is thinking of extending his trip an extra day so he can play golf.
It his not yet clear where the American president would visit but he could take a trip to one of his family-owned golf resorts.
Mr Trump bought Menie Estate in Aberdeenshire in 2006 but faced backlash as environmentalists said the course would "destroy" the area's natural landscape.
Aberdeenshire golf course given five star Visit Scotland rating
He also took took over the Turnberry resort in Ayrshire four years ago.
Mr Trump resigned as director of several UK companies linked to his Scottish golf courses shortly before he was inaugurated as president.
His eldest sons Donald Jr and Eric were handed control of his businesses in the UK.
Yesterday politicians said Mr Trump may not be welcomed by everyone in the region if his visit includes a trip to Aberdeenshire.
Aberdeen Central MSP Kevin Stewart said: "I have no doubt that if he chooses to come to the north-east he will not receive the warm welcome from all that our visitors normally get.
"I am sure that like me, most Aberdonians condemn the opinions and statements spouted regularly by Mr Trump and I'm sure that many will want to peacefully voice and showcase their opposition to his views."
And north-east Labour MSP Lewis Macdonald said: "If he did come here to play golf, perhaps Donald Trump could welcome the world's largest wind turbine, about to be commissioned in Aberdeen Bay, once he's seen for himself that it does not spoil the view from his golf course."
Mr Trump had previously described wind turbines as "monstrosities" and lost a legal battle against installing them in the sea near his golf course.
Downing Street has confirmed that the president will hold talks with Theresa May in July but other details of the trip are still being arranged.