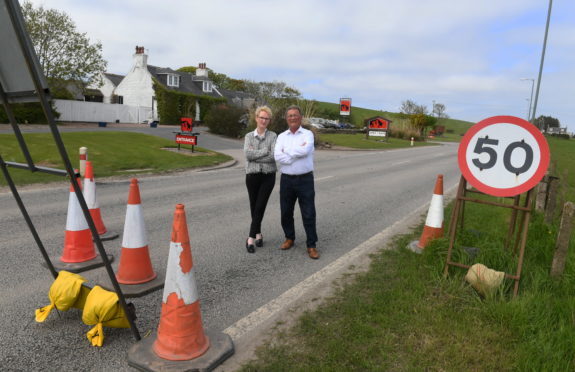 Owners of a popular north-east restaurant have claimed they may have to close for good within weeks if "chaotic" road signs are not updated.
The Cock and Bull sits right off the A90 Aberdeen to Peterhead road near Balmedie.
But due to the ongoing works to dual the road between Balmedie and Tipperty as part of the AWPR project, motorists – and customers – are being diverted away from the restaurant, and have to head further north to Newburgh before being able to cut back in.
Owner Mandy Davidson claims she was told by the road's local liaison officer that they could put up their own signs to properly direct customers – but they were removed in less than a day.
Ms Davidson says they have now been told they cannot put them back up, and fears this could be the end for the popular restaurant.
She said: "Andy Devine told us that we could put them up last week, but he's since gone on holiday and the signs have been removed – it's ridiculous.
"Customers have to go all the way up to the Newburgh junction and then double back – people just won't do this if they are popping out for a quick lunch.
"I reckon we can go on like this for another four weeks, then we would realistically have to close our doors – we are losing around £700 in lunch trade every day – the whole thing has been chaotic."
North East MSP Peter Chapman raised the matter at Holyrood yesterday, during a committee update on various roads projects around the north-east.
He was assured that Economy Secretary Keith Brown will look into the matter, and be in touch.
Mr Chapman said: "I'm disappointed that the signs have been taken down within 24 hours.
"This is a business which is only trying to keep its doors open in a difficult time.
"Even people from the local area are flummoxed by how to get to the restaurant.
"I'm speaking to Transport Scotland, Aberdeen Roads Limited and Aberdeenshire Council about what can be done.
"Simple signs to get people where they want to go – they need to start working together to resolve issues."
Gordon MP Colin Clark added: "I do not understand why suitable temporary signs should take this long. There is a disconnect here and it is severely undermining local businesses."