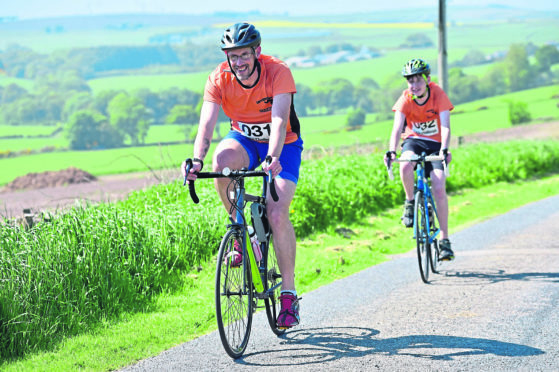 It was fast, it was furious and there was a jubilant response from the organisers of yesterday's 2018 Banff Cycle Challenge.
Hundreds of people attended the event with both supporters and cyclists relishing the action which took place in sun-drenched conditions.
Organised by Banff Rotary Club, this year's challenge was organised to raise funds for Alzheimer Scotland as well as local charities and youth sport development.
The proceedings started and finished at the Deveron Community and Sports Centre with two different routes available to participants.
More than 250 keen cyclists could opt for either a four-mile or 24-mile challenge which both avoided the A98 Banff to Buckie road. Instead, the routes meandered through picturesque rural scenery and peaceful Banffshire countryside.
Participant Tracie Lovie decided to take part in preparation for another upcoming fundraising challenge.
Next month, she will canoe round, cycle through and climb up Snowdonia in Wales. She chose the 24-mile route and completed her challenge in just over two hours.
Ms Lovie said: "I'm trying to get some miles in which was why I decided to do the course. It was a good, nice route as well as being quite hilly. I will definitely be taking part again next year."
Following a successful event in 2017, when over £6000 was raised, this was the sixth year of the Banffshire Cycle Challenge. Last year there were 229 cyclists who took part.
The event was originally designed to encourage cyclists of all ages and abilities to take part, whether they were first timers or experienced riders.
Rotary Club president Jan Emery said organising a new route this year was vital so that none of the cyclists had to cross the busy A98 Banff to Buckie Road.
She added: "The new route required more marshals, but we were fortunate to have the excellent support of our partners from the Banff Round Table as well as the Inner Wheel club of Banff.
"This is a fantastic way for local residents to raise money for charity. It really is a terrific testament to members of the Rotary Club who set the event up several years ago.
"Since then it has just been growing and growing and feedback is always positive."