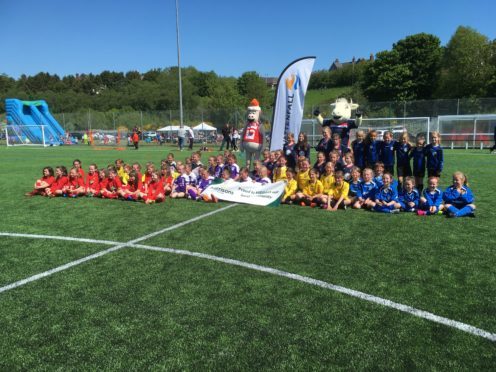 Football teams from across Aberdeenshire descended on Turriff on Sunday as hundreds of girls took to the pitch at The Haughs.
Turriff United Youth Football Club played host to the North Region Girls Football League (NRGFL) football festival.
The event, which is run by the Aberdeen Football Club Community Trust (AFCCT), usually takes place at the Aberdeen Sports Village but came to Turriff at the weekend as part of an initiative to get more girls playing in the festivals.
Teams came from as far afield as Stonehaven to Banff to take part in the day which was open for under-9 and under-11 age groups with 26 teams in total taking part.
The hosts made sure that the girls and their supporters were able to make a day of it with a bouncy castle, burger stall and lucky squares competition.
Aberdeen FC mascot Donny the sheep and Turriff United's Moo the Coo also made an appearance.
Turriff youth girls coach, Lesley Chapman, said: "This was a fantastic day for us as a club, Turriff as a community and north-east girls football as a whole.
"The Sports Village in Aberdeen is great but it's a bit of excitement for the girls to go and play somewhere different.
"The girls all loved the fact that the teams were coming to play at their ground.
"Turriff always comes together as a community when things like this take place and we were not short of support from sponsorship to raffle prizes."
More than 250 school girls attended the event.
Harley Hamdani, community coach and education officer from AFCCT, said: "Aberdeen FC Community Trust were delighted to take the NRGFL up to Turriff.
"As we support the growth of the girls' and women's game, it is important to reach out to geographical areas beyond the city and its close surrounding area, to ensure football is accessible to all girls who wish to play.
"By providing the opportunity to participate in a local festival, we have inspired more girls from the north-east to take part in regular activity."