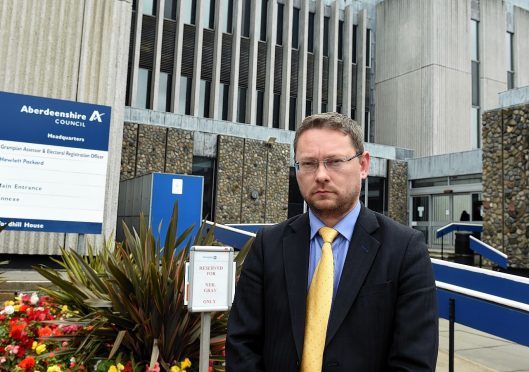 The ruling administration has said it has much to be proud of after its first year in power.
The Alliance – which is made up of Tories, Lib Dems and allied independents – has hailed its successes in the schools estate, with new primaries opened in  Inverurie, Turriff and Hillside.
Meanwhile, the sod was cut on the new Inverurie Community Campus last month, and a new Peterhead academy has also been cemented in the capital plan.
But there was strong criticism of the administration's record from across the chamber.
Richard Thomson, leader of the group, said the administration lacked "coherence and ambition".
He added: "This has been a dismal first year in office.
"Cllr Gifford and a small team around him lead an administration which lacks coherence and ambition and which appears content to keep its backbenchers in the dark about important facts and issues.
"There's no greater sign of that than the decision to keep the council based in Woodhill House, in the process removing 150 jobs from Inverurie and slashing the number of new jobs planned for Ellon.
"It's a decision which does nothing to improve the delivery of services across Aberdeenshire but which will tie Aberdeenshire residents into paying Aberdeen City Council over £1m each year in business rates well into the future."
Mr Gifford also said the creation of a new sports and culture unit, which was approved by the communities committee yesterday, was another success.
However, Mr Thomson criticsed his counterparts for taking credit for projects spearheaded by the previous SNP/Labour-led ruling group.
He said: " "This administration has few ideas of its own and does little without being prompted either by council officials or external political stimulus. The work on the new schools cited and on the cultural unit was all started by the previous SNP/Labour administration.
"On that front, it is simply incoherent to complain about government funding levels and then to list amongst your 'achievements' a school building programme which can only happen because of the additional Scottish Government funding that Aberdeenshire is getting.
"The previous administration might have lacked a majority but because it knew what it wanted to achieve it was better able to discharge its business than the new administration."