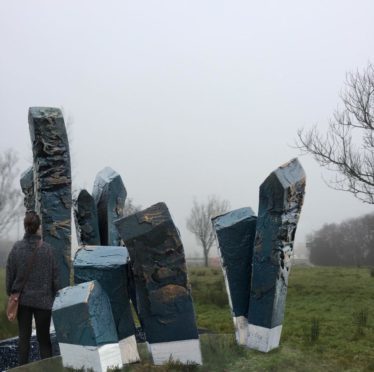 Residents of Westhill have been given the first glimpse of a new centrepiece for the town.
Images of the Westhill Gateway sculpture, which is to commemorate 50 years since the first houses were built in the area, were shown at the Westhill Gala.
Ireland-based German artist Holger Lonze has been commissioned to deliver the eye-catching project.
The sculpture will be made up of five large pieces of bronze, each representing a farm that was on the site before the development of Westhill. Symbols will be put at the foot of the sculpture to differentiate each farm.
There will be a water-like finish to the bronze, which is meant to depcit the oil and maritime industries.
Westhill and Elrick Community Council is behind the art work and said the response so far had been 95% positive.
Member Kate Lumsden, who is leading the Gateway project, said: "We were absolutely thrilled but we know that you can't satisfy everybody.
"It's going to be quite a modern sculpture, with a lot of symbolism in it, so it might take a bit of explaining to people, but once you explain it then people start to get it."
The community councillor hopes the sculpture will act as a marker.
She said: "We felt that because Westhill doesn't have a high street, just the shopping centre, it might be a nice thing for people to see as they drive in."
The sculpture is to be unveiled in October, to celebrate the anniversary of the start of construction of Westhill.