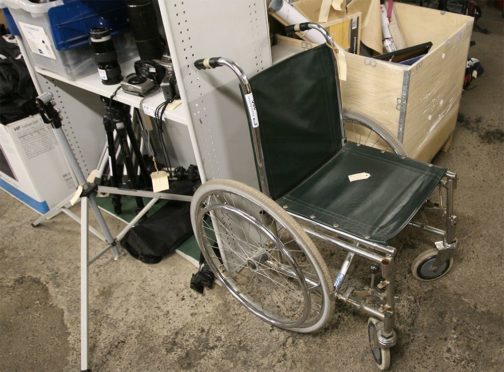 A single football boot, a bedsheet and even a wheelchair have been left by football fans during visits to Peterhead's Balmoor Stadium in the last year.
The club has revealed some of the stranger items which took up residence in its lost and found box during the 2017-18 season.
Among them included a wedding ring, eight jackets and an Aberdeen FC season ticket.
Some of the items have already been claimed by owners, but the club's general manager Martin Johnston appealed for anyone else who had lost property on match days to come forward.
Mr Johnston said: "We have a lost property box in the office and it is filled to the brim at the moment.
"Many of the items still have to be claimed and we will keep them until the end of July.
"After that, we will pass everything that is useful on to charity."
Mr Johnston added there were likely explanations about why many of the objects were abandoned by fans in the stands at Peterhead.
He said: "The wheelchair was left behind by somebody who doesn't usually use one and they forget to take it with them.
"There was an Aberdeen season ticket and I cherish the thought that somebody decided to come to Balmoor instead of Pittodrie, but we found it at the end of the season.
"We were not that surprised to find a dummy as a dummy gets spat out at matches on regular occasions.
"There are a few scarves, hats and gloves as well. Maybe, the atmosphere at Balmoor is too hot for some people?
"There were a few wallets and one of them was packed with money and credit cards, so I drove down to Aberdeen to reunite it with its owner."
Anyone hoping to reclaim their lost property has been asked to contact Peterhead Football Club on 01779 478256.
Peterhead's League Two campaign kicks off against Queens Park at Balmoor Stadium on Saturday, August 4.
The items left behind by fans last season included:
1 Aberdeen FC Season Ticket
1 baby's dummy
1 bank card
1 baseball cap
1 bedsheet
1 bum bag
1 football
1 football boot (left)
4 pairs of glasses (3 with cases)
1 glasses case
5 pairs of gloves
1 single glove (left)
1 bottle of hand cream
1 inhaler
8 jackets
1 notebook
1 phone charger
4 scarves
1 satchel
1 trainer (left)
1 t-shirt
1 snood
1 umbrella
2 wallets
6 water bottles
1 wheelchair
2 woolly hats