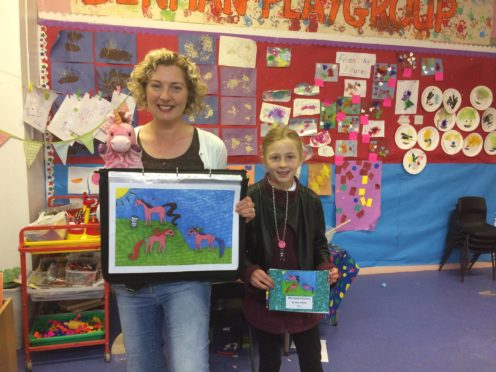 A north-east mum and her daughter have embarked upon a school book tour to spread the word about inclusivity and tolerance.
Childminder Lindsay Officer and nine-year-old Kate have written and published their own story to teach youngsters about being nice to one another.
The Kind Unicorn follows Olivia, a unicorn who is different to her peers and who says that beauty comes from goodwill and generosity rather than just physical appearance.
Mrs Officer and Kate, along with an Olivia puppet, have been holding readings at schools in their hometown of Westhill and have already raised hundreds of pounds.
They have decided to use the profits to buy other books about encouraging kindness and donate them to school libraries.
Mrs Officer said: "We were talking about what Kate wants to do when she grows up.
"I said I wanted to be a writer, but when you grow up you run out of ideas, and Kate said she had plenty I could write about."
The pair then wrote out the story and Kate enlisted the help of her younger sister Megan, 6, to help with the illustrations.
Mrs Officer said: "I'm a childminder and think that a lot of children in school seem to grow up a bit too fast now.
"A few can become a bit obsessed with image and they aren't quite as kind to others as they could be. To them it's always about looking cool instead.
"I always says to my girls that it's nice to be pretty, but it's much more important to be kind. Those are the values we live by."
Initially they had planned to just give copies to family and friends, but have since found themselves stocking a number of local shops and craft fairs with the book.
All of the profits are being reinvested into copies of others which also promote kindness and empathy.
And Mrs Officer has been creating packs containing the books and other classroom resources which teachers can use to help their pupils.
She said: "A lot of people don't know about these really important books. Everyone needs to know about them and they should be in every school."