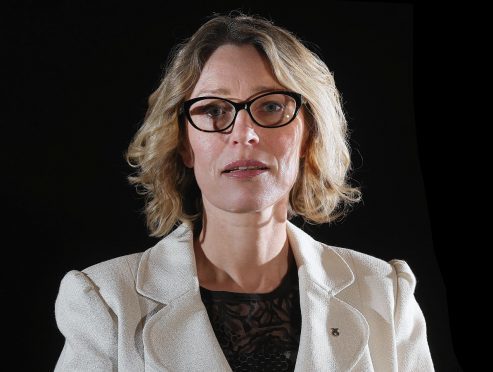 Before her election in 2016, Gillian Martin wrote a blog called Misssy M Misssives for several years.
On 19/3/07, she recalled one of her first jobs working in a bar in New Orleans, and wrote: "According to the waiters (all black ghetto New Orleans lads to a man) the tippers ranked thus:
"1. American Christian Whites- tip well ( a combination of feeling guilty about slavery and wanting rub their comparative wealth in your face)
"2. American Jews- tip ok but only if you've absolutely busted your hump and everything was faultless in the extreme. Often complain about the quality of the food, and then the small portions (Copyright: Woody Allen)."
She added: "5. American Blacks- don't tip at all or tip next to nothing- to be avoided. The waiters (also black, remember) would do anything to avoid serving a table of blacks or be openly disappointed if allocated one."
Comparing swimming pool attendants to Nazis, on 6/5/07 she said: "They breed them young. Just like Hitler with his Hitler Youth, they are young impressionable beasts, lured by the power giving properties of a whistle and total authoritaa over all you survey.
"Their unquestioning adoption and the fierce enforcement of ridiculously draconian rules is part of the code they live by. They are the swimming pool attendants that ruined our son's birthday."
After watching the Eurovision song contest with family, on 13/5/07 she wrote: "Normally we have only done a £1 sweeper and had a special award for the most politically incorrect statement or comment of the night; 'The Order of the Golly' TM.
"I have a 32-year-old Gollywog that my Great Aunt Peggy gave me when that sort of thing was still 'OK'.
"There's no way I am ever going to throw it out. I want my descendants to see it in the future and marvel that such a thing existed.
"Anyway, whoever wins the 'Order of the Golly' TM gets presented with the little fella at the end of the night."
On 20/5/07, under a heading of "WARNING: This next post may get me sacked", the former college lecturer bemoaned a culture which involved "bizarre and costly attempts" to "woo the Holy Grail student" to colleges and universities who can be used for publicity and attracting funding.
She said that "such students are highly prized" and that "legend has it that there is an orphaned, single-parent, gender-confused, blind, Aboriginal, one-legged, cross dressing, lesbian, dyslexic, ex-con, Muslim in a University somewhere in the UK."
Ms Martin described how her students had to answer the question: "Do you consider, or have you ever considered yourself to be transgender?", and that "inevitably, all my students ticked YES as they thought it was funny."
She wrote: "How much extra money will the undisclosed establishment get due the fact that the EU clearly have a Tranny Trove?
"What will they use it for? Will they install a third category of loo with a special transgender sign?"
She added: "Are we going to see lovely photos in the foyer of hairy knuckled lipstick wearing transitional transgender Laydees being embraced by the principal of undisclosed college or visiting politicians for the press?"
On searching for her sister's missing cat in the Torry area of Aberdeen, on 28/10/10 she wrote: "And again, this being Torry, and it being a trying place for foreign nationals to make a living, it took me a good minute or so to realise what had made the Chinese Takeaway owner so angry about me popping in to ask her if she had seen my lost cat.
"Of a late night in this area, Chinese Takeaway owners have to put up with a lot of slurs on the possible ingredients of their dishes.
"Little did she know I was actually looking for a lost cat rather than making assumptions about the real source of her Char Sui pork. Oh dear. She actually chased me out of the shop."