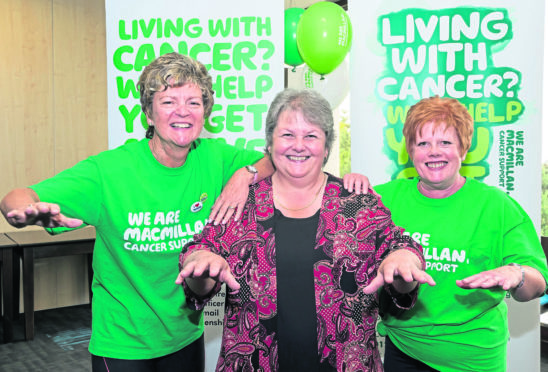 A new programme set up to help people with cancer get active has been launched in Aberdeenshire.
Move More Aberdeenshire was designed for patients and includes walking groups, gardening sessions, gentle movement and circuit-based activity classes.
It has been rolled out throughout Scotland and Macmillan Cancer Support is now working together with the local council to bring it to the region.
Cancer patients are traditionally advised to rest and put their feet up, but research from Macmillan shows that being active can have physical and mental benefits as well as minimise the side effects of treatment.
Joanne Adamson, strategic partnership manager for Macmillan, said exercise had a positive effect on cancer patients.
It also helped people diagnosed with cancer meet other patients which also proved to be beneficial.
She said: "They feel less fatigued, they get out and about and have a bit of fresh air, which we all know is good for us.
"They're improving their cardiovascular health, which again is important but also it's about reducing isolation.
"A lot of cancer patients tell us that part of having cancer leaves them feeling lonely, they don't really have anybody else to talk to so actually if you join a class where other like-minded people are having that fancy piece and a fly cup afterwards is just as important as having physical activity.
"So it's about making new friends and feeling comfortable."
Free of charge, the activities will give patients the chance to be active and also meet other people giving them a chance to share their experiences.
Aberdeenshire councillor Anne Stirling, the chairwoman of the council's communities committee, said: "The launch has gone really well. I'm really pleased that so many people have attended today."
She added: "This is the start of a very exciting journey for us."
More information on the scheme can be found at www.macmillan.org.uk