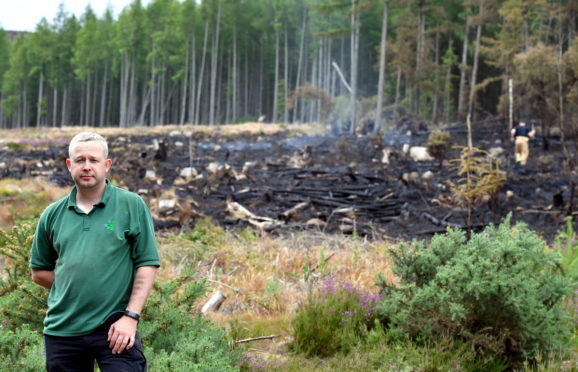 Emergency services were forced to fight a gorse fire that ripped through a section of a north-east woods over the weekend.
The call came in from Bennachie at around 7.30pm on Saturday evening after smoke was seen rising from an area near the main trail up the hill.
The fire service and Forestry Enterprise Scotland were both sent to the scene and worked until beyond midnight to get the blaze, which consumed an area of around 250 by 100 metres, under control.
Emergency services at fire in Bennachie Woods for second day running
They returned to the scene early on Sunday morning after the fire took a turn for the worse, whipped-up by strong winds.
By mid-afternoon, they were confident that the fire had been brought under control and took to dampening down the area.
A part of the trail was sealed off but walkers were still able to make their way to the top of the hill.
John Thomson, the director for Moray and Aberdeenshire at Forestry Enterprise Scotland, was involved in the effort to contain the blaze.
Great effort from crews from Aberdeenshire, Moray and Aberdeen City to contain hill fire at Bennachie tonight, difficult conditions but positive early actions allowed us to contain this fire before it could spread further @fire_scot #keepingaberdeenshiresafe pic.twitter.com/FujpYyyRJN

— David Meldrum (@d_meldrum) July 7, 2018
He said from the scene: "We were alerted by a member of the public about a huge plume of smoke coming out of the forest.
"The fire service provided manpower and we provided equipment and local knowledge.
"We were on the site until 1.30am and were back at 8am this morning."
He went on to say: "We believe the cause was likely a discarded cigarette or something like that.
"Our message is we encourage people to use areas like this recreationally but to be careful when doing so."
He added: "I also want to say we were phenomenally impressed by the performance of the fire service."