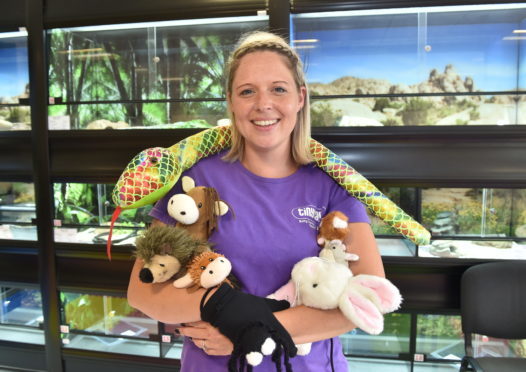 A talented tutor has treated talkative tots to a sign language class with a difference.
Kate Barrie spends her days teaching babies to use actions to communicate with their parents and tell them if they are hungry, sleepy or sore.
And while she usually uses cuddly toys and puppets to teach them animal names, she decided to trade them in for the real thing.
Yesterday she held a series of special classes at the SSPCA rehoming centre in Drumoak, where youngsters and their parents got to interact with cats, rabbits and even tortoises while they learned.
She said: "It really made a difference to the kids having the animals there instead of just a prop.
"We had three classes altogether and the first two sold out completely within an hour so everything went amazingly well.
"I was hoping to have a snake as well but they have all been rehomed – although I think the mums there were quite happy there were none available."
Mrs Barrie began teaching baby signing classes last year and now runs sold-out TinyTalk sessions for youngsters up to the age of 18 months old across Aberdeenshire.
She first got involved after taking her daughter Molly to her first class at five months old.
Mrs Barrie said: "As my children Molly and her younger brother Jack grew older and started to speak, their words were extremely clear and well-spoken.
"More often than not their first spoken words were the same as those they had signed.
"So not only did we have the benefit of communicating as a family before they could speak, when they did talk to us our conversations developed thick and fast and I believe the sessions played a huge part in this."
Yesterday's classes were staged to raise money for the SSPCA, with the charity receiving a £210 boost by the end of the day.
"My two passions in life are animals and my TinyTalk classes," Mrs Barrie said.
"It's so beneficial for the kids because animals make you happy and it teaches them how to care for something from a very young age.
"And bringing something real in for them, rather than using a prop, really brings on their signing."