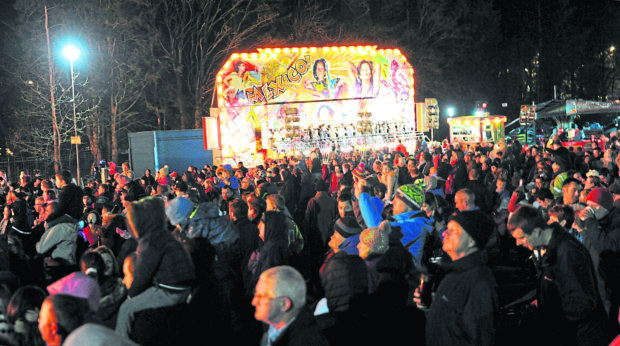 A hugely popular north east fireworks display has been cancelled for the first time in 40 years amid safety fears – and its long-term future remains uncertain.
Having taken place every November since the 1970s, there will be no Guy Fawkes celebration at Thainstone near Inverurie this year.
The growth of the town, the busy A96 and the event itself means significant attention must be given to road and pedestrian safety.
And the problems that poses have finally proved too much for Inverurie and District Round Table, which organises the annual display.
Members took the decision to cancel this year's festivities with regret after working with Aberdeenshire Council, Police Scotland and roads management company BEAR Scotland to try and come up with a solution to manage traffic and pedestrian interaction on the A96.
BEAR confirmed that they cannot grant a traffic restriction order to stop traffic on the A96 for the event and, in turn, Police Scotland clarified that in the absence of such an order, they can only stop traffic on the road in an emergency.
A spokesman for the Round Table said members had "actively investigated" alternative locations for the event but had been unable to find a site that meets all the requirements for crowd safety and traffic management.
That forced the group to cancel this year's event.
"It was a decision made in consultation with the police and council and not one that was taken lightly," the spokesman added.
"The growth of the town and the A96 has meant that we would need to put traffic management in place.
"We are committed to reviving the event in 2019 subject to both a suitable location being found and also it being cost effective.
"The costs of putting on such an event at a location such as Thainstone have become unsustainable – even with support from Thainstone Mart – and it is likely that even a capacity crowd at the event would not cover costs.
"As a small team of volunteers, we have to prioritise our resources and, following a review of the event, we have arrived at this decision.
"We would like to thank all who have helped at this community event for the last 40 years."
Should any other community bodies wish to consider taking the event on, they are encouraged to contact Inverurie and District Round Table.
Meanwhile, the group will be concentrating on our other community events such as their annual charity boxing dinner on November 17 as well as hitting the streets with Santa in December.
They are actively looking for local men aged between 18 and 45 who would like to get involved in the community to get in touch with them at InverurieRT@hotmail.co.uk.