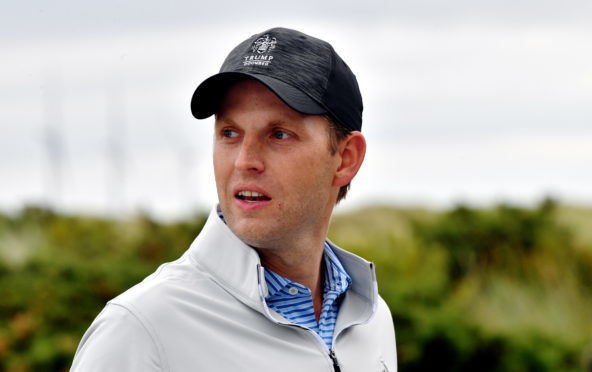 Donald Trump's son and business successor jetted into the north-east yesterday – and slammed "shallow" critics including the First Minister.
Eric Trump played a round at the Menie estate links before answering questions from journalists.
First Minister Nicola Sturgeon will not meet the president on his visit to the UK and has previously described statements made by him as "deeply abhorrent".
The visit will also be met by protests across the UK, including outside the Menie estate, which have been backed by a number of senior politicians.
Mr Trump said that the outrage at his father's visit had been "hyped up" by the media and when asked specifically about the response from Scotland he said: "There is always a big disconnect between citizens and politicians.
"We have seen that in our own country often enough, but I guess we have thick-skin." "If you look at the people in Aberdeen and Turnberry they love what we have done to the two sites we have and the hundreds of millions we have invested in the country.
"It's something that should be celebrated and not criticised. I think it takes a pretty shallow person to criticise it and many of these people are shallow.
"They will come and go and we won't and we will still be here investing in these properties for generations to come."
He branded the Aberdeen bay wind farm that his father had fought so hard to stop "irrelevant", but added that he was sceptical that it would still be standing in a decade.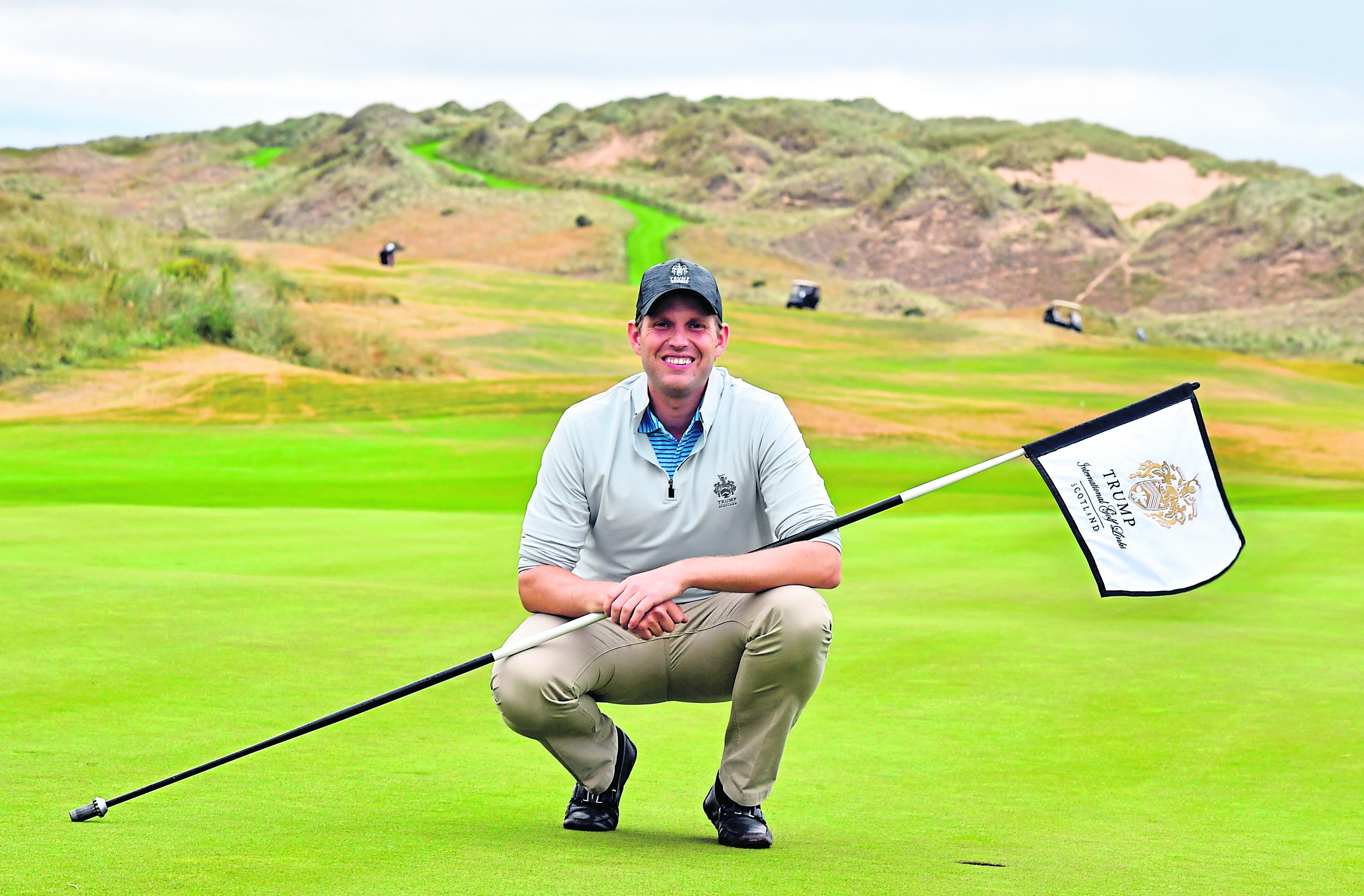 He said: "I don't think anyone in the world can tell you that wind energy is a great form Donald of energy.
"I think it was a foolish location, but at the end of the day I think it is irrelevant and it doesn't make any difference to this course.
"We will see how long they last."
Eric Trump brands Aberdeen bay wind farm development 'irrelevant'
His visit came as watchdog Scottish Natural Heritage found the Trump International Links has "partially destroyed" the specially protected site it was built on.
But he said that the investment had done "wonders for the area" and that his Scottish grandmother would be "smiling down" from heaven in pride at the work in her native land.
And Mr Trump said that he was confident that UK/US relations would be strengthened by the presidential visit.
He said: "It's a great thing for international relations and if you look at the UK and you look at Scotland and the US – what two allies, anywhere in the world at any time in history have been more powerful allies than us?
"I think having a president with those roots, that has spent so much time in those places, is a beautiful thing."
Mr Trump said he would meet his father at the Turnberry course in the coming days and added it was "still to be decided" whether he would make a visit to his Aberdeenshire golf course.
When asked if there would be more visits in the future he responded: "There is no question about it."
A Scottish Government spokesman said of the visit: "President Trump is coming to the UK at the invitation of the UK Government and the Secretary of State for Scotland will greet him on arrival.
"We understand the President's time in Scotland is planned as a personal private visit between other engagements, with no official meetings.
"Scotland has deep and longstanding ties of family, friendship and business with the United States, which will continue to endure.
"At the same time, we will not compromise our fundamental values of equality, diversity, and human rights and we expect these values to be made clear during the presidential visit to the UK. We would encourage those attending any protests to do so peacefully and safely."
Mr Trump jnr's private jet, emblazoned with the Trump logo, left Aberdeen Airport at 4.15pm.