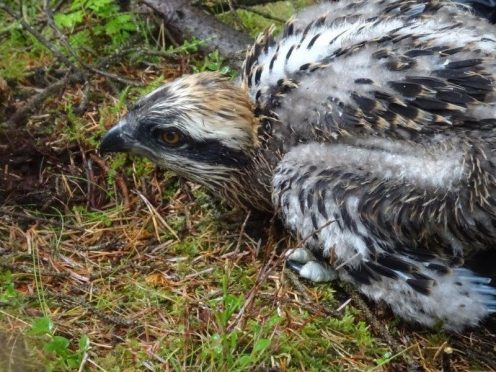 A "tragic error" resulted in a baby bird of prey dying while a wildlife charity attempted to tag it.
RSPB staff were trying to attach a tag to an osprey chick near Huntly, to track its movements throughout its life, when the bird fell from the top of its tree and died.
The organisation has now released a statement explaining the accident and pledging to learn from the mistake.
Osprey chick that survives lightning storm gets appropriate nickname
The message, posted on the RSPB's website, stated: "We are extremely sad to report an unfortunate accident that occurred recently when two members of staff were ringing an osprey chick in the Huntly area of Aberdeenshire.
"A tragic error at the top of the tree led to a chick falling to the ground from the nest, resulting in the death of the bird."
The RSPB statement added that the incident was only the second of its kind to take place in more than 50 years of ringing osprey chicks across Scotland.
The message also stressed that the three staff members involved were all "highly experienced" and were following strict protocol as ordered by the British Trust for Ornithology (BTO).
It added: "This heartbreaking accident has left everyone involved distraught and upset by the loss of this chick.
"Ringing birds is a hugely important technique used all over the world for collecting information, including about birds' movements, ecology, habitat requirements and migratory behaviour.
"Many ospreys have been marked in this way since they returned to Scotland as a breeding bird in the 1950s, and this activity has made a huge contribution to understanding their conservation requirements both here and on their wintering grounds in West Africa."
The organisation explained that the teams involved in tagging birds also undertake duties such as strengthening vulnerable nests, which may otherwise be blown out by high winds.
They also remove fishing wire from chicks, and take other dangerous pieces of plastic out of nests.
A full report of the incident will be sent to the BTO ringing committee, and the RSPB has promised to "take on board" any recommendations it may offer "to ensure the chances of such an incident happening again are minimised".