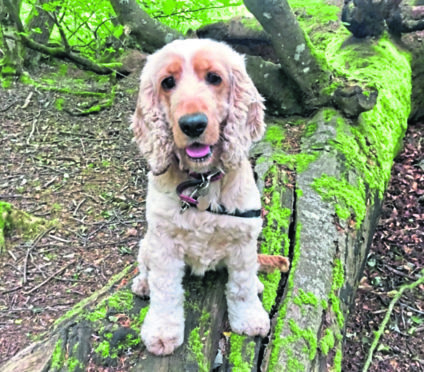 A dog owner has issued a warning amid suspicions that someone tried to kill her pet by feeding it poisoned sausages.
Lynn Page, who lives in Laurencekirk, called police after discovering the laced meat products slotted through her garden fence.
She suspects that the perpetrator was someone who lives in the area, after learning that police had recently received complaints about her three-year-old Cocker Spaniel Cara barking too loudly.
Ms Page said her mother found the half-eaten sausages, which Cara had been nibbling, in the grass.
She said: "We were out in the garden and my mum came across them, there had been quite a lot of sausages put through the fence.
"Cara had only had a nibble on one of them, but was a bit subdued the day after because of it.
"Whatever those tablets were, they have certainly had some effect on her."
The animal lover added: "Apparently last weekend when I was out someone phoned the police about the dog barking, but we don't know who.
"I think they were annoyed by it, but I wish they would have just come to the door.
"This is a dramatic response, I have little nieces and nephews who could have picked up the sausages and tried eating them.
"I want other dog owners to know that there is someone in Laurencekirk capable of this, I am absolutely sickened by the whole thing."
A police spokeswoman yesterday confirmed that officers attended the property at the weekend and that "suitable advice was given".
The spokeswoman added that Cara did not appear to show symptoms of having ingested any of the sausages at that time.
She said: "There was no suggestion as to where the sausages had come from, the property is next to a public area."