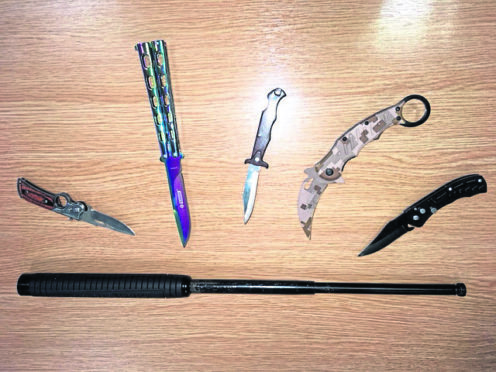 Border Force seized a number of knives and a baton from a 16-year-old boy from Aberdeenshire after he returned from a holiday in Prague earlier this week.
The teenager was travelling with his mother and grandmother when officers stopped the trio at Edinburgh Airport on their way home from the Czech Republic on Wednesday.
When questioned by officers, the family members were adamant they were not carrying any offensive weapons, but a search of their hold luggage unearthed an extendable baton, a butterfly knife, three flick knives and a folding knife.
The teenager, who cannot be identified, but is from the Aberdeenshire area, claimed they belonged to him and said he had purchased them as souvenirs of his trip.
The authorities issued pictures of the weapons and made it clear that nobody should attempt to bring such items back to Britain from their holidays abroad.
Murdo MacMillan, deputy director of Border Force North, said yesterday: "Detections like this demonstrate how our officers are at the forefront of the fight to protect UK communities and individuals from dangerous or offensive weapons.
"These types of knives glamorise violence and can cause devastating damage — they have no place whatsoever in our society."
The family was allowed to continue their journey after the weapons had been seized and warnings issued, and the knives and baton will now be destroyed.
Border Force was established in 2012 by the Home Office, and has authority for protecting the UK border.
It is responsible for entry controls and customs functions at the border and its other priorities include immigration and security checks, the prevention of people trafficking, anti-smuggling of banned and restricted goods including drugs and weapons and protection of border revenue.
Anyone with information about activity which they suspect may be linked to smuggling should call the hotline on 0800 59 5000.