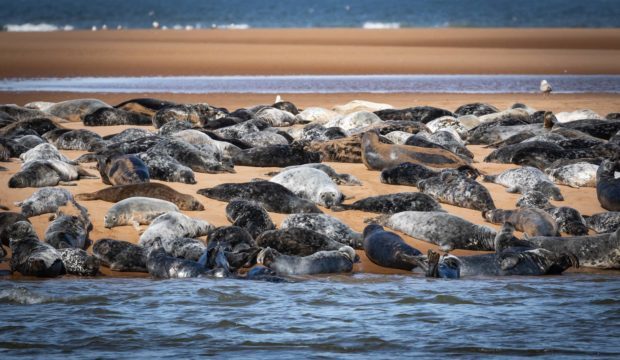 A conservation group which keeps watch over a seal colony at a north-east estuary is expanding its operation.
The Ythan Seal Watch, which exists to help protect the animals living in the estuary near Newburgh, is looking for help from the public to stop any undue stress being placed on the colony members.
Having previously kept an eye on the site, the group has decided to expand its remit upstream towards Ellon, after seals were spotted venturing further afield.
Lee Watson, who organises the group, said: "We are pleased to announce that we will be expanding Ythan Seal Watch away from the estuary to cover the river Ythan too.
"Last year, towards the end of the summer, there were reports of seals upstream around the Ellon area.
"We will be doing very regular checks upriver ourselves, but we are also asking if anyone does see any seals upstream around Ellon to get in touch with the Facebook page so we can check on them in case they are having problems.
"This is something anyone can do and they don't have to be a volunteer with us.
"Lots of people spend time around the Ythan for different reasons, so we are asking everyone to look out for the seals they see upriver and to let us know if they do.
"We are looking to make sure that not only the animals are safe, but anyone who comes into contact with them.
"If I was fishing in the Ythan upstream and a seal came up to me, I would be worried about the harm it could do to me."
Mr Watson added: "It's great that so many people are also looking out for the wildlife around the Ythan and not just the seals.
"Ythan Seal Watch couldn't exist without the help we get from an ever-increasing network of photographers, dog walkers and runners."
Last year, Scottish Government legislation made it an offence to harass the hundreds of grey seals at the mouth of the Ythan Estuary under the Marine Scotland Act.
In April, the group blasted those flying drones over the seal colony, and in May fears were raised about the impact of marine litter on wildlife after a distressed seal was discovered entangled in a fishing net.