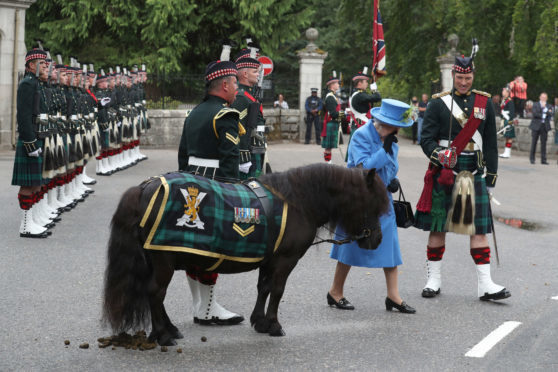 Crowds gathered to watch the Queen carry out an annual tradition when she began her summer break on Royal Deeside.
The monarch began her yearly stay at Balmoral Castle by inspecting the soldiers tasked with looking after her during her trip.
The 92-year-old had been staying at Craigowan Lodge on the estate until the site was closed to tourists.
Yesterday she was greeted by soldiers from Balaclava Company of 5 Battalion, the Royal Regiment of Scotland.
And she had another encounter with mischievous pony Cruachan IV, the regimental mascot that tried to bite her during a previous trip.
This time, the animal managed to relieve himself next to the queen just as she arrived to be met by commanding officer Major Johnny Thomson.
The monarch held her nose as she wandered past the mascot but affectionately greeted her old nemesis by saying: "Here we are again".
The regiment's Shetland mascot tradition began in 1928, and the first to march with its soldiers was Cruachan I.
The position has since been held by another three black Shetland geldings, with Cruachan III retiring at 23 years old in 2012.
Scores of onlookers held their phones aloft and snapped photographs of the Queen as she inspected the soldiers.
Wearing a sky blue jacket, with matching hat, Britain's longest-serving monarch entered the grounds to the sound of bagpipes.
The troops generally remain in residence nearby at the Victory Barracks in Ballater, and provide guards for the duration of the Queen's holiday.
The tradition was established by Queen Victoria and her husband Prince Albert, who bought Balmoral in 1852 and fell in love with the environs and surrounding countryside.
Although Balmoral remains largely the same as it was in Queen Victoria's reign, successive royal owners have followed the initiative spearheaded by Prince Albert in making improvements to the estate.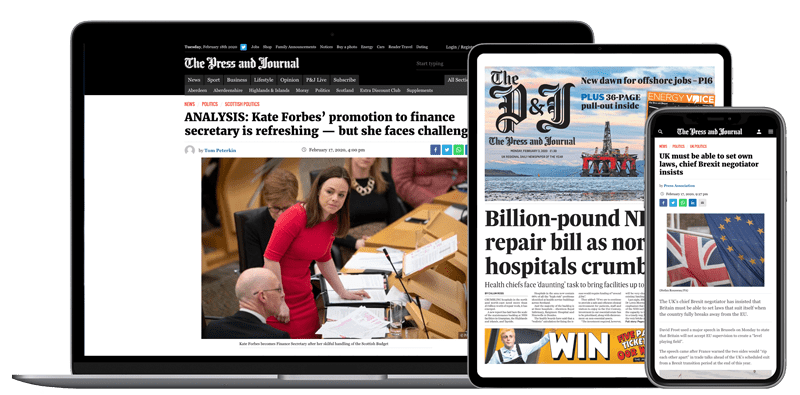 Help support quality local journalism … become a digital subscriber to The Press and Journal
For as little as £5.99 a month you can access all of our content, including Premium articles.
Subscribe