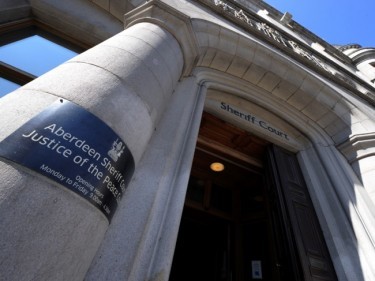 A north-east woman has admitted befriending an 87-year-old man with dementia so she could plunder his pension.
Jayne Reid latched-on to her vulnerable victim late last year and was invited back to his home in the Insch area.
Aberdeen Sheriff Court heard the 52-year-old repeatedly took sums of money from a drawer in her victim's bedroom.
She was only caught out when first the man's son and then his cleaner noticed the drawer was empty.
While they initially thought little of it, the man's relatives soon became suspicious as they noticed Reid loitering around.
His son later saw Reid and a man he knew at a shop and then saw them outside his father's house, where they had no reason to be.
He asked his father if anyone had been in his home and when he said they had he called the police who traced Reid in connection with the theft.
She admitted stealing money on various occasions in October and November during an appearance at the court yesterday.
Fiscal depute Katy Begg revealed that Reid had made a full confession to the police, telling them "I'm guilty as charged".
She said: "She admitted to stealing £500, having taken money on 'two or three occasions'."
Representing Reid, defence agent David Sutherland said his client had previously suffered from drug addiction and had later turned to alcohol abuse.
He asked for sentence to be deferred to enable his client to confront her problems and build up savings to pay compensation.
Sheriff Charlotte Coutts told Reid she had been given "many chances" and was not going to be given another.
The sheriff was about to impose a custodial sentence when Mr Sutherland pointed out that as his client had not been to jail since the 1990s a report would be needed.
Reid, of Foundland Crescent in Insch, will now return to court next month to learn her fate.