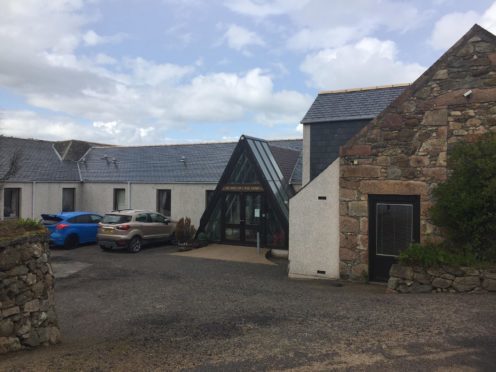 The future of a north-east nursing home was in doubt last night after it was ordered to stop operating due to concerns residents were living in "highly distressing" conditions.
The Care Inspectorate claims residents were not being cared for properly when staff carried out an inspection of Muirhead Care Home last month.
The government watchdog reported its concerns to the police and officers are now investigating.
It's claimed there was a shortage of staff working at the facility and vulnerable residents were tied to the furniture with belts.
The case was taken to the city court yesterday where a sheriff granted an interim suspension order in a private hearing.
The terms of the order state that the care home will not be allowed to operate after August 31 pending a full hearing to consider formal closure of the building.
It's understood staff from the Aberdeenshire Health and Social Care Partnership will be in the care home over the weekend to take over the care of residents who will be rehomed.
After the court hearing, Karen Reid, chief executive of The Care Inspectorate, said: "Our last inspection found highly distressing conditions.
"We saw evidence of vulnerable people being tied to chairs with belts, which is extremely dangerous and unacceptable.
"Residents were not getting enough food.
"There were not enough staff on hand to help people who really needed support.
"Some people were not given essential medicines.
"We found a lack of appreciation as to why these things are so unacceptable."
Earlier this month, Alford resident Pearl Crawford spoke of her concerns over the care of her uncle who was living at the 35-bedroom facility.
She said she feared that he was not getting enough food.
She said at the time: "I have written to complain about the care he has received – he has lost so much weight.
"I've often left after a visit and sat in my car and sobbed – it's just not right."
Last night Ms Reid confirmed new homes would be found for residents.
She added: "We have made referrals to nursing regulators and the police, and are working closely with Aberdeenshire Health and Social Care Partnership to support residents to move to other care homes where they will be cared for safely and with compassion."
A spokesman for the care home said: "The court has decided that the registration will be suspended in three weeks' time.
"All measures are under consideration."
Adam Coldwells, Chief Officer for the AHSCP, said: "Staff from the Aberdeenshire Health and Social Care Partnership will continue to have a presence at Muirhead Care Home over the coming weeks to offer reassurance and support to residents and their families at this difficult time.
"Care management teams will work with families and residents to minimise disruption and find suitable future care and accommodation."
Anyone with concerns should contact The Care Inspectorate on 0345 6009527.