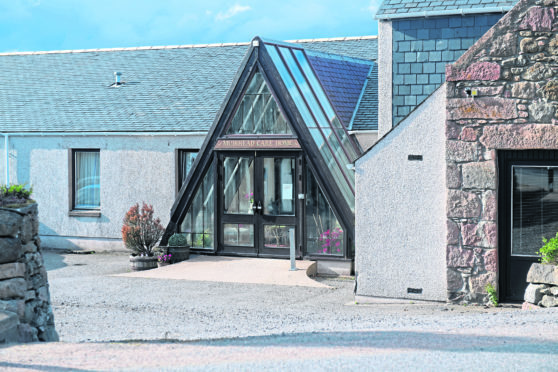 The families of pensioners at an under-fire care home have been told their loved ones may have to be moved into hospital because there is not enough room elsewhere.
A sheriff ordered Muirhead Care Home in Alford to close its doors at the end of this month after care bosses called the police in due to concerns over the residents' welfare.
The Care Inspectorate took the emergency action about a fortnight ago after an inspection revealed residents had been tied to chairs with belts.
North-east care home which 'tied residents to chairs with belts' shut down after court battle
An inspection team also discovered that people had not been given enough food and some were not given vital medicines.
Together with the Aberdeenshire Health and Social Care Partnership (AHSCP), the organisation has promised to relocate every resident at the home, which has a specialist dementia unit, to local-authority run or private facilities.
However Alison Carroll, who has already arranged for her 87-year-old mother to be moved into another nursing home, claims she was told hospitals were also being considered due to capacity issues in the area.
She said: "This is going to be a horrible experience for my mother, she doesn't deserve this. I mean people die when they are moved. Not everyone, but when you look at the statistics it's not great.
"Nothing has ever happened to her which was untoward and I have never seen any hint of anything wrong happening to anyone else.
"Do people really think I would leave my mother in the state that has been described by the Care Inspectorate? It doesn't say very much for me and others.
"I have taken matters into my own hands, the council said they would put her in somewhere else.
"At one stage they said it might be a hospital ward because there's a desperate shortage at the moment, which is laughable in itself when you consider the pressure hospitals are under. They told me she could be put anywhere in the whole region.
"I have absolutely no faith in the authorities, nobody wants to speak to us, and since we are the representatives of them that means no one wants to listen to the residents either."
The case was taken to the city court on Friday where a sheriff granted an interim suspension order in a private hearing.
The terms of the order state that the care home will not be allowed to operate after August 31 pending a full hearing to consider formal closure.
Arthur Forbes, vice-chairman of the Grampian Senior Citizens Forum, said it was worrying that residents would face so much upheaval.
"It's absolutely horrific when you read the report, there's not another word for it.
"For the people who are going to be moved that's a terrible situation and could end up with them being disorientated and going downhill."
The council has said that hospital stays are a short-term option which may be used for residents with complex healthcare needs.
The Care Inspectorate said it was continuing to work with AHSCP to keep families informed of the ongoing situation.
A spokeswoman said: "Aberdeenshire Health and Social Care Partnership will keep in close contact with relatives during the coming days as older people are supported into care settings where they will be safe and cared for with dignity and compassion.
"We will be working closely with staff from the health and social partnership and expect them to be in touch with relatives on Monday."
A spokesman for the care home previously said: "The court has decided that the registration will be suspended in three weeks' time. All measures are under consideration."
Anyone with concerns should contact the Care Inspectorate on 0345 6009527.