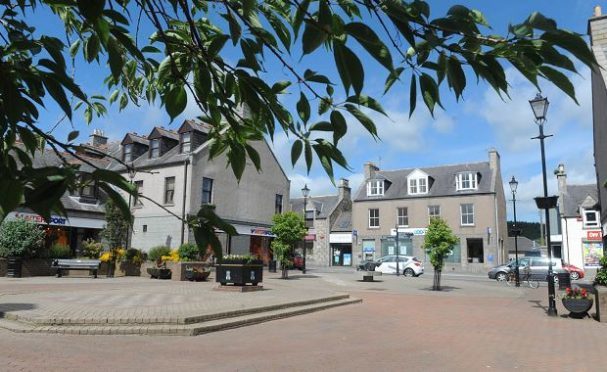 Fears have been raised over the future of Ellon's shopping heart after one of its most respected retailers announced it is to close.
Gray's of Ellon will cease operating on August 28 after 19 years in the Aberdeenshire town.
The clothing and haberdashery shop becomes the latest in a flurry of business closures and relocations, with rising rents, parking restrictions and competition from big name retailers all been linked to the upheaval in the town.
Jack's Steakhouse and Grill ceased trading earlier this month, while Aberdeenshire Council plans to move its offices from Neil Ross Square to a new development on the site of the old academy.
Yesterday, Gray's owner Pauline Hourston said: "Ellon is just not as busy as it once was.
"There are shops closing everywhere, people are shopping online and nobody can compete with the likes of Aldi.
"I've had the best time over the last 19 years.
"The customers have been so lovely and it's been an absolute pleasure but I've been thinking about it for a while and it's the best decision for my family and I.
"It's been emotional, and I spent all day Saturday crying, but it's the right time."
Customers Rachel Hetherington and Helen Stephen, from Ellon, said the news was "sad", with Ms Hetherington adding: "The town won't be the same without shops like these".
George Stewart, chair of Ellon Community Council said the closure decisions were "disheartening" as they would result in a loss of jobs and services for residents.
"It's never good when a town centre loses a business and it looks like Ellon is losing two in quick succession," he said.
"Shops, bars, restaurants and other outlets that attract people to the town centre have a beneficial effect on neighbouring businesses and add to the overall vitality of the area.
"The opposite of course is true when we lose one or more of our businesses."
Business Gateway's Andrew Burnett, meanwhile, said the announcements were disappointing but not surprising.
"Businesses close for a number of different reasons, but in the north-east the success or otherwise of businesses is usually connected in some way, shape or form with the oil and gas industry," he said.
"With the downturn, it's no surprise that businesses are having to redesign how they go forward.
"The earlier we can get involved when businesses are in trouble, the more chance we have of helping them survive.
"Unfortunately in the case of these two businesses, it's too late."
Earlier this month, bosses at Jack's cited the "challenging trading environment, changing consumer habits and rising overheads," as the reason behind their decision to close down.
Local councillor Richard Thomson has called on local residents to show their support for shops in the town.
He said: "If we want to keep retail in our town centres, then as customers, we all need to try and support our local businesses with our own custom wherever we can."