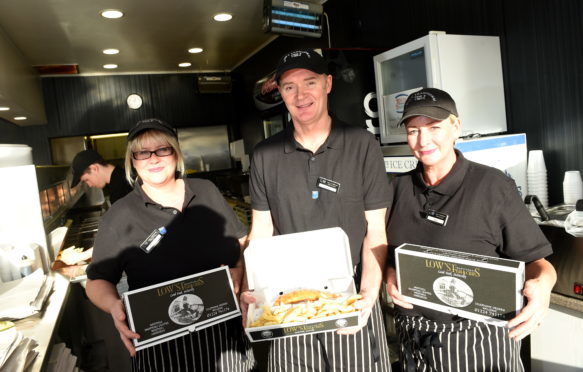 An Aberdeenshire business is in the running to be named the UK's Fish and Chip Shop of the Year.
Low's Traditional Fish and Chip Shop in Westhill is one of just two Scottish shops shortlisted for the award – the other being The Fish Hoose in Thornton, Fife.
They will now be scrutinsed by National Fish and Chip Awards' judges ahead of a ceremony in the New Year.
The Fish and Chip Shop of the Year title is keenly contested in an industry that has seen something of a resurgence in recent years.
Its high standards have been celebrated as loudly as some portion sizes have been criticised and Scots businesses have long been hailed as among some of the finest exponents of the craft.
Both Low's and The Fish Hoose were chosen from a shortlist of Scotland's top six eateries, which included The Fish Works in Largs and the Redcloak Fish Bar in Stonehaven.
David Low, general manager of Low's, said he was "delighted" to receive the news yesterday as the award is widely considered to be the industry's top accolade.
He said: "At Low's we make it our mission to focus on three things – the quality of our food, service, and staff development.
"I'm delighted that the hard work by our staff has been worth it."
Mr Low and his team will now face an unannounced inspection, lasting more than three hours, during which judges will peruse every aspect of the business.
Marcus Coleman, chief executive officer at Seafish, said: "The shops nominated have demonstrated real commitment to quality in a number of areas, not just food, and have worked extremely hard to earn their place on this list.
"There's a tremendous amount of talent to be seen across the UK Top 20, and we wish them all the best in the next round of judging as we know how much this competition means to all of them."
Low's commitment to staff development is clear as the business has also seen three members of its team named on the ten-strong shortlist for Young Fish Frier of the Year.
Alex Walker, Katie Gray and Iona Wilson made up the team of Scots nominated in the category.
To get to this stage, the trio had to face a rigorous judging process, including an examination, skill based assessment, interviews, a practical skill day and a mystery shop round.
The winner of the Fish and Chip Shop of the Year Award and the Young Frier of the Year will be announced on 24 January 2019.