Thousands of people enjoyed the spectacle of one of Scotland's most iconic Highland Games at the weekend as the 177th Lonach Gathering took place.
It is a sight that makes your hairs stand on end and is hailed as one of the north-east's most famous performances.
The unique six-mile journey of the Lonach Highlanders began early on Saturday morning and culminated with the 170 tartan-clad clansmen proudly marching into the central arena in Bellabeg to the delight of the 7,000-strong cheering crowd.
Continuing the tradition that stretches back nearly 200 years they set off on their march at 8am and visited a number of local properties throughout Strathdon – toasting the health of the owners with several drams of whisky along the way.
Led by Sir James Forbes of Newe, patron of the Lonach Highland and Friendly Society, the men were followed by Socks the Lonach horse who was making his fourth appearance at the event.
Owned by Lonach Highlander Derek Gray, the Irish Heavy Cob received hearty cheers and admiring glances from the crowd, with many going to meet the horse and take selfies with him when he is enjoying a rest between the afternoon marches.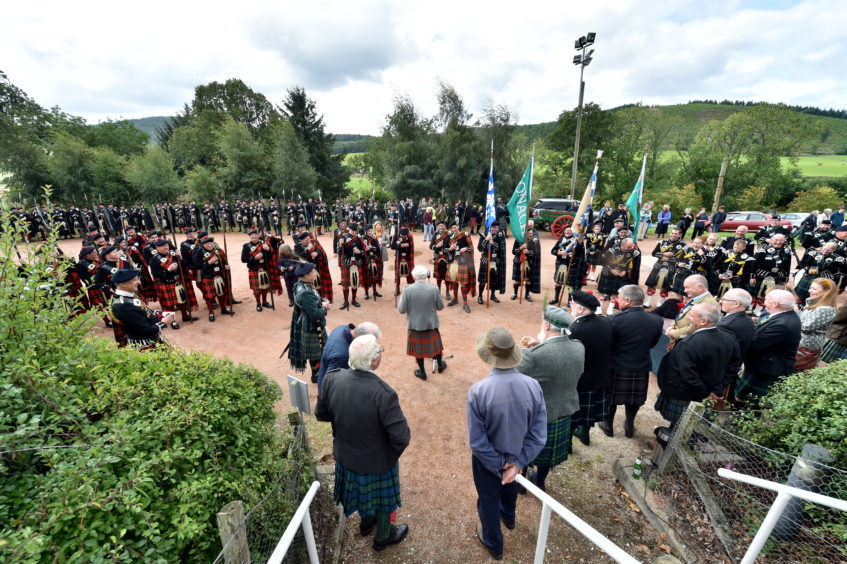 The day-long celebration of Scottish culture and sporting heritage saw history being made when 45 youngsters took part in the first ever Daily Mile event at a Highland Games. Held in conjunction with Active Schools Aberdeenshire and The Daily Mile, the primary school age children were sent off on their mile round the games arena by Elaine Wyllie, the founder of the children's health initiative.
Mrs Wyllie said: "The first Daily Lonach Mile was fantastic. Over 40 children, boys and girls, took part, with lots of family support. What is evident at Lonach is the real sense of community which fits with the ethos of The Daily Mile."
The day's events and entertainment also included the traditional heavyweights, such as caber tossing and shot putt, Highland dancing and piping throughout the day.
In the heavy events, Scott Rider from Dartford was named the overall heavy event champion for 2018, whilst Lukasz Wenta from East Kilbride retained the Rob Walker Memorial Shield by winning the open caber event.
Throughout the day four local pipe bands performed for the crowd, which included visitors from Australia, Austria, Hawaii and New Zealand. Joining Lonach Pipe Band were pipers from Ballater and District, Huntly and District and Towie and District.
Secretary and chief executive of the Lonach Highland and Friendly Society, Jennifer Stewart said: "There is a rich history and heritage at Lonach and encouraging our next generation to get involved is extremely important.  Watching the march – right round the arena you see youngsters with beaming smiles who are eager to get involved – it is heartening to see.
"This is a unique Scottish event, amidst stunning scenery and today's sunshine has made the day sparkle."