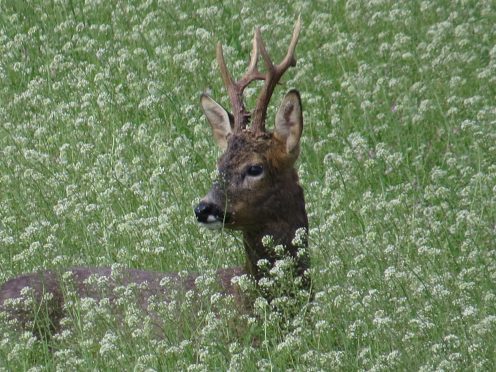 A controversial cull of deer is to take place on estates and in forests across Aberdeenshire as part of a major effort to decrease herds to "a sustainable level".
Forest Enterprise Scotland, the agency responsible for managing Scotland's national forest estate, is offering a £78,000 contract to thin numbers at Bennachie, Gartly, Bunzeach and Cushnie.
It has justified the action on the grounds of public safety and protecting Scotland's landscape and trees from damage by the country's healthy red deer and roe deer populations.
The proposed cull has however angered campaigners, with the animal welfare charity OneKind among those concerned that the number of deer to be killed remains unclear.
In Scotland, about 30,000 deer are shot on national forestry estate land each year in order to prevent overpopulation and to protect around 85 million young trees growing on the land.
A spokesperson for Forest Enterprise Scotland said: "Culls are necessary to keep deer numbers down to a sustainable level, where their numbers will not result in habitat loss and will not result in animal welfare issues over the winter.
"Deer are also a significant risk to public safety, such as in road accidents and managing their numbers in rural areas can play an important part in improving road safety."
"This is very much 'business as usual' but as a matter of course we liaise with the local land owners to agree cull targets to reduce deer impacts for mutual benefit. Our own rangers will cull some animals but we contract much of the work out."
Forest Enterprise Scotland confirmed that the cull will take place until next year and focus "predominantly" on roe deer and on a smaller number of red deer.
There are estimated to be between 360,000 and 400,000 red deer and 200,000 to 350,000 roe deer throughout the whole of Scotland.
Sarah Moyes, OneKind campaigner, is unconvinced by the reasoning given for the latest activity.
She said: "We're concerned that Forest Enterprise Scotland have not specified how many deer are going to be killed as part of this cull. The culling of deer should be kept to an absolute minimum.
"In the case where deer numbers do need to be managed, we have a moral responsibility to ensure that lethal control is the last resort and carried out as humanely as possible only after non-lethal methods such as deer fencing, immunocontraception and repellents have been explored."
Martin Ford, councillor for the East Garioch ward in Aberdeenshire, said: "It has been generally accepted that deer culling is necessary to prevent populations becoming too large and reaching unsustainable levels."