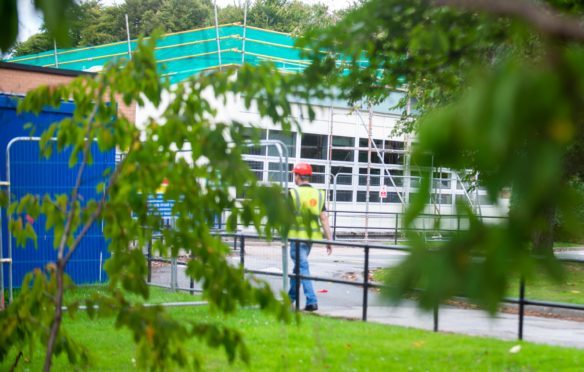 Parents have claimed their community has been "forgotten about" amid an ongoing row over health and safety risks at a north-east primary school.
On Monday it emerged that 14 pupils had been pulled out of Gordon Primary in Huntly over concerns about ongoing repair work in the building.
That step was taken by some families after children returned to the school after the summer holidays to find the facility was a "building site".
Parents keep kids off amid safety fears at a north-east school
Among the claims the parent council has made is that contractors were continuing to use blow torches on the roof, flammable gas cylinders were stored on site, fire exits were being blocked and lessons were being disrupted by the noise of tools and machinery.
The group also raised concerns that the work might disrupt areas which it believed could contain asbestos and claimed there were long-standing issues with damp and mould.
Aberdeenshire Council met with parents on Monday and said the vast majority of the 14 pupils, out of 420, had now returned.
However the parent council issued a lengthy statement yesterday in which it called for greater transparency from the authority to allow parents to make their own judgement on their child's safety.
The statement, written by the parent council chairman Steven McKay said: "While re-assurances have been provided that the risks posed by works are being reduced, it is clear that significant risks still remain.
"Parents need to be provided with sufficient information to make their own assessments of these risks and to make personal decisions about the safety of their children as the situation develops.
"The school is no longer fit for purpose and the people of Huntly feel that they have been forgotten about.
"The Gordon Schools are a historic and central part of this north-east but urgently require significant investment and improvement in order that children have access to an inspirational learning environment," he added.
Allan Whyte, the council's head of property and facilities management, said he was "reassured" to see the majority of pupils back at school.
He said: "I would reiterate that we would never put children at risk. The objective is to improve the conditions at the school, investing in the children's wellbeing and education, as part of a wider programme of school investment across Aberdeenshire.
"These works are being undertaken properly and while some disruption is inevitable I am confident the impact on learning and teaching will be kept to a minimum.
"Parents have been made aware, via the school management and on a number of occasions, of the plans in place around the works.
"We will continue to ensure good communication with parents as the works progress."