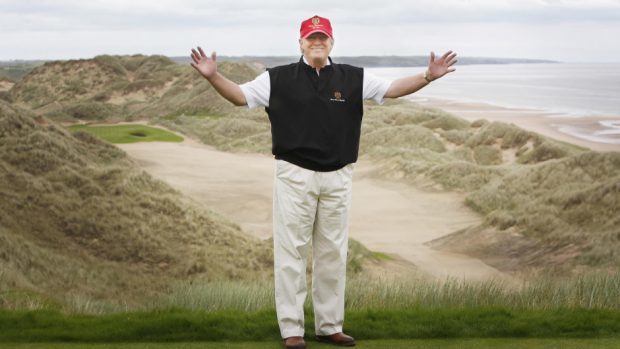 Donald Trump is understood to be considering another visit to Scotland – including a stop-off in Aberdeenshire – just months after jetting in for a two-day retreat at one of his luxury golf resorts.
Protests broke out across the country during the US President's trip to the UK in July, where he took the time to meet the Queen and Theresa May.
He capped the journey off by heading to Scotland for meetings then a round of golf at the Trump Turnberry course in South Ayrshire.
According to The Sunday Times, senior government sources have indicated that Mr Trump is considering a slight detour during his trip to Ireland in November to visit the resort once more.
And the possibility has been raised that he could travel further north to his Menie Estate course near Balmedie.
While the Trump International Golf Links was officially opened in July 2012, work on new additions is still under way.
Earlier this year The P&J exclusively revealed that plans had been lodged for a £150 million expansion including hotel accommodation and 500 houses – with some expected to come with multi-million pound price tags.
Activists have started preparing for further demonstrations during Mr Trump's visit to Ireland.
Several politicians there have already voiced their opposition to his presence and urged the Irish government to cancel the trip.
Concerns have also been raised around the cost of the journey to the public purse.
It is thought the policing bill for Mr Trump's last visit was around £5m, with the UK Government footing the bill.
Green MSP Ross Greer, who joined the protests at Turnberry in July, said: "We came face to face with him in July and we will do so again if he tries to slink back for a round of golf at the UK taxpayers' expense.
"This time instead of footing the cost for the most expensive round of golf in history, the UK government should have the mettle to send him the bill."
No-one from the Menie Estate course was available for comment.