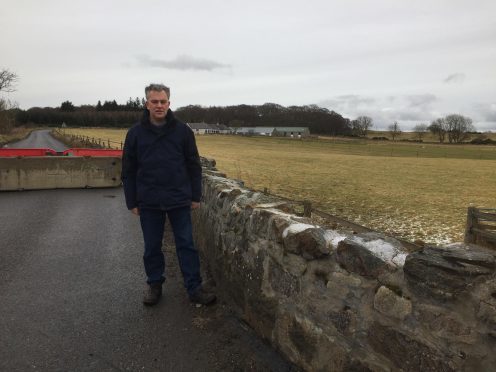 Fed-up residents are breathing a sigh of a relief as a community park promised more than a decade ago is finally coming to fruition.
Avant Homes had included the play area on its initial plans for Kingseat, near Newmachar, when it lodged proposals for 300 properties there back in 2004.
But despite the passing of 14 years – and an Aberdeenshire Council enforcement notice – work on the site never truly got going.
The site has since changed hands, and is now owned by ZTR Investments, but unhappy with the lack of progress the local authority has stepped in.
Last night Aberdeenshire Council confirmed it will begin building the playpark on Monday then look to recoup the costs from those involved.
Head of planning, Robert Gray, said: "Although some preliminary clearing work was undertaken by the new owners there has been no significant progress in forming the park or installing the play equipment.
"As such the council has appointed contractors to complete the works.
"This is the first element of an attempt to facilitate completion of the wider development at Kingseat and deliver some much-needed community facilities for the residents."
Local mum-of-two Sarah Urquhart said: "I'm glad there's finally a park getting built.
"I have a newborn and a five-year-old who will be happy it'll be so close by."
Kim Ritchie, who works at a nearby playgroup and has two children, said: "I had heard rumours about this but I wasn't sure if it was actually going to come together.
"It's going to be fab."
Others described the development as "a long time coming," with one adding: "It is a disgrace that our scheme has been left in the state it's in.
"There's nothing for the children to do and it's such a shame."
Councillor uses new powers to get action on derelict hospital
East Garioch councillor Martin Ford helped to instigate the move after drawing attention to residents' woes last summer.
He said he was "delighted" that the park will finally be built but expressed disappointment at the length of time it took for the council to intervene.
"It's more than 12 years since residents moved into the first new dwellings at Kingseat, so some children who moved there early on have grown up without a play park close to their home," he said.
Avant Homes was approached by the P&J yesterday, while ZTR Investments could not be reached for comment.