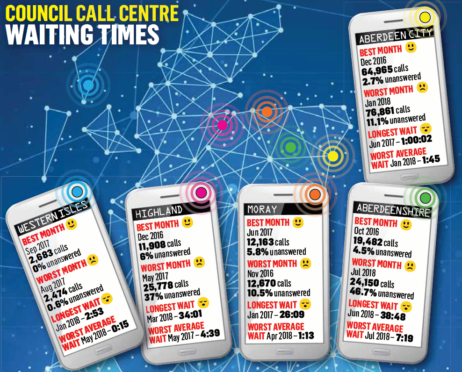 Frustrated residents are being left on hold for up to an hour to report urgent public health hazards, road defects and housing repairs.
Shocking figures obtained by The Press and Journal have revealed the lengthy delays people are facing on a daily basis when trying to contact their local authority.
The documents outlining call handling stats have revealed a gigantic gulf in customer service between council areas.
For example, over the course of July almost half of all calls – 46.7% – made to Aberdeenshire Council's contact centre went unanswered.
Each customer was left on hold for an average of seven minutes and 19 seconds, with a minimum wait of six minutes 36 seconds.
But during the same month, staff in the Western Isles missed just 11 of the 2,352 phone calls they received with the average caller waiting a comparatively paltry 15 seconds to speak to an operator.
Long wait times have also been seen elsewhere.
In June 2017 one caller was left on hold with Aberdeen City Council for more than an hour.
The figures were more reasonable in Moray and Highlands, and the longest waits recorded over the two-year period were 26 minutes and 34 minutes, respectively.
Campaign groups have reacted angrily to the large discrepancy.
The TaxPayers' Alliance has gone as far as to say Aberdeenshire – the worst-performing call handling council in the north of Scotland, according to the figures – should make cuts elsewhere to invest more in its contact centre.
Spokesman Simon Hunt said: "The council needs to act now to ensure that its call centre services are being delivered much more effectively to the standard that local taxpayers expect and deserve.
"It should get rid of waste in other areas rather than fail to meet the core needs of local people."
However Aberdeenshire Council has said that while it "appears" to be answering fewer calls, the actual time customers spend on the phone with advisors is increasing.
It is also working to make more services accessible online instead.
---
>> Keep up to date with the latest news with The P&J newsletter
---
Head of customer communication, Kate Bond, said: "When the contact centre went live in 2006 it dealt with three council services, since then it has expanded to cover 17 services.
"While this is very beneficial for customers with multiple queries, it also lengthens the time customers can be on the phone, which increases the waiting times."
She added: "It is also important to note how seasonal variations will have an impact on our performance figures, such as adverse weather, and that customers can receive the information they are looking for while waiting for their call to be answered in the form of pre-recorded, topical messages."
Aberdeen City Council said an improvement programme is under way, focusing on training staff and making information available elsewhere.
A spokeswoman said: "The times of the longest waits and extended times on hold occurred during peak times in demand due to seasonal variations.
"We remain committed to ongoing improvement to ensure customers can easily access the services and information they need."