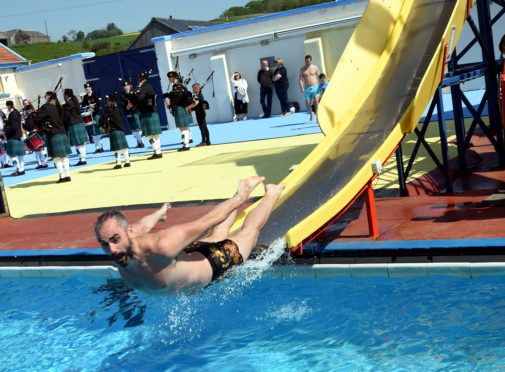 One of Aberdeenshire's most beloved attractions welcomed a bumper number of customers this summer – after overcoming fears that its opening could be delayed amid a health and safety probe.
Stonehaven Open Air Pool has become a favourite destination for generations of locals and tourists throughout the spring and summer months.
But in May, concerns surfaced that fans of the scenic spot near the town's beach may have to wait to bathe in its heated salt water.
Aberdeenshire Council warned that a health and safety investigation could delay essential maintenance works from being carried out at the 164ft pool, and that its traditional opening date at the end of May would therefore be pushed back.
The Health and Safety Executive (HSE) launched an investigation in February after a pensioner volunteering there fell from scaffolding and injured himself.
There were sighs of relief when the inquiry ultimately concluded in a timely manner, and the pool opened on Saturday, May 27, on a day when Mediterranean conditions encouraged a huge crowd to visit the UK's most northern lido.
And now, the Friends of Stonehaven Open Air Swimming Pool has confirmed that the art deco venue welcomed 37,445 visitors during the 14-week season.
Group chairman, Pete Hill, revealed that the number marked a rise of 24% from last year.
He added: "This has been a memorable, historic season for the pool."
Chairwoman of Aberdeenshire Council's communities committee, Anne Stirling, said: "It's great to see that Stonehaven Open Air Pool remains such a popular summer attraction.
"The fine weather this year has no doubt played its part, but the very hard work of the Friends group and council staff is what makes the pool such a special place to visit."
The increased attendance figures have also been attributed to improvements organised following a customer survey last year – which indicated that people wanted to enjoy a greater range of activities there.
Weekly aqua zumba sessions were offered, as well as regular live music and children's entertainment at weekends.
Information from the customer survey also showed that fewer than 50% of the visitors were Stonehaven residents.
More than 22,000 people visited the pool from elsewhere in Aberdeenshire, Aberdeen and beyond.
More than 8,000 came from the rest of Scotland, about 1,500 from the rest of the UK and a further 1,500 from overseas.