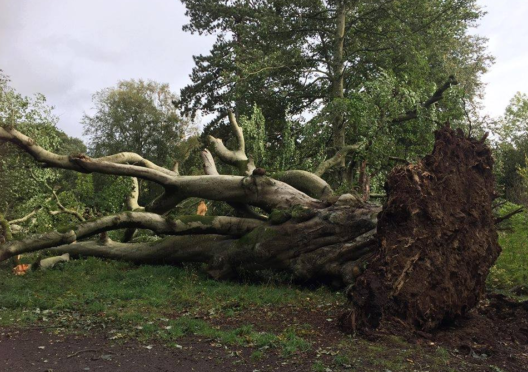 A 200-year-old tree which collapsed in recent storms could be turned into a piece of art.
Storm Ali left its mark on Haddo House and Country Park, near Ellon, with gusts of up to 75mph causing the beech tree to fall.
The Old Pheasantry building on the grounds was also damaged.
The twisted beech was one of several in the park, but stood in a prominent position at the entrance and was well-loved by visitors.
Staff at the National Trust for Scotland site now want the "spirit" of the tree to live on in the form of a piece of art, calling for artists in the area to get in touch with ideas on how it can be brought back to life.
Visitor services officer Suzanna Atkinson said: "It's got such a beautiful trunk, it's so stunning and sculptural and imposing. And some of the branches are incredibly interesting looking.
"We've already had a number of suggestions.
"It could potentially be characters of some kind, whether human or animal.
"It could be a large seat, or it could be something to do with how we see Haddo as a whole, with animals running about and children playing.
"It could also be totem poles, as some of the branches are quite long and straight."
She added: "I feel it's important that whatever it is, it stays at Haddo.
"It's been such an important part of Haddo for such a long time."
Surveys on the condition of the wood will be carried out before a decision is made on what it can be used for. Artists interested in getting involved with the project should e-mail vsohaddo@gmail.com