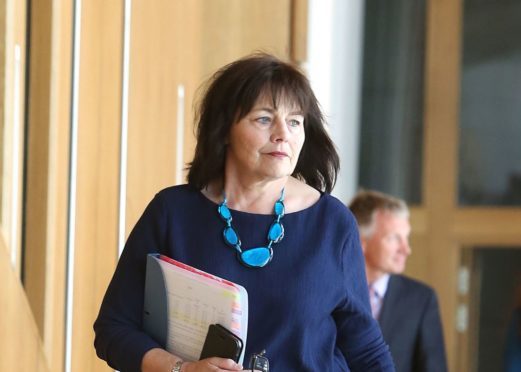 Health Secretary Jeane Freeman has been criticised for refusing to meet a north-east campaign group battling for improved services for sufferers of a rare skin condition.
Aberdeenshire West MSP Alexander Burnett had written to the SNP minister asking her to meet representatives from the Alford-based Teddington Trust.
The group want protective equipment to be made available on prescription for those who suffer from xeroderma pigmentosum (XP).
It is a rare genetic condition, affecting fewer than 100 patients in the UK, of which about 10 are in Scotland, and is characterised by sensitivity to ultraviolet radiation, often causing severe sunburn after only a few minutes in the sun.
---
>> Keep up to date with the latest news with The P&J newsletter
---
The charity was set up in 2012 by Rebecca and Wilbur Stewart after their nephew Eddison was diagnosed with XP at the age of 13 months.
But in response to his letter, Mr Burnett has now been told that Ms Freeman is "unavailable to meet" the campaigners.
And last night, the Scottish Conservative MSP said: "It is disappointing that the cabinet secretary is refusing to take the time to listen to the case put forward by the Teddington Trust.
"This is a difficult issue, but one that cannot be ignored by any government. I hope that the cabinet secretary will reconsider this approach."
Mrs Stewart, from the Teddington Trust, said: "We would like an opportunity to share the challenging circumstances of those living with XP with the health secretary, so that we can begin conversations around how families can be better supported by this government and ensure this life-limiting condition is correctly recognised across all governmental departments.
"The Scottish Government have an opportunity to demonstrate best practice in supporting patients through the social care sector and lead the way for the rest of the UK."
A Scottish Government spokesman said: "While the cabinet secretary was unable to meet with Mr Burnett and Ms Stewart, the response to the invitation was clear that we want everyone to receive the best possible care and treatment from our NHS and local authorities.
"We expect that those with rare diseases, such as xeroderma pigmentosum (XP), receive the specialist care they require, which can include treatment elsewhere in the UK.
"Only drugs and devices included on the Scottish Drug Tariff can be prescribed and no manufacturer has submitted a request for specialist UV clothing to be added.
"If the Trust know of suitable manufacturers of specialist UV clothing they should encourage them to submit an application to NHS Scotland to for consideration of whether the products are suitable to be added to the Scottish Drug Tariff.
"High factor sunscreen, lip-screen and Vitamin D supplements are available on prescription for patients with XP."
Xeroderma pigmentosum
Xeroderma Pigmentosum is a genetic disorder that reduces the ability to repair DNA damage from ultraviolet light.
Suffers of the condition frequently encounter sunburn after only a few moments outdoors, dry skin, alterations in pigmentation as well as freckling.
As well as these, other problems that may occur include hearing loss, loss of coordination, loss of intellectual capacity and seizures.
Those with the disorder are also more likely to suffer from cancer.
There is no cure for the condition and treatment means people must avoid the sun altogether.
The Alford-based Teddington Trust was set up in 2012 by Rebecca and Wilbur Stewart after their nephew Eddison was diagnosed aged just 13 months.
They work to raise awareness of the condition and initially raised funds to build an indoor garden for their nephew.
Once this was accomplished, the pair decided to build on their progress and the Teddington Trust become a registered charity.