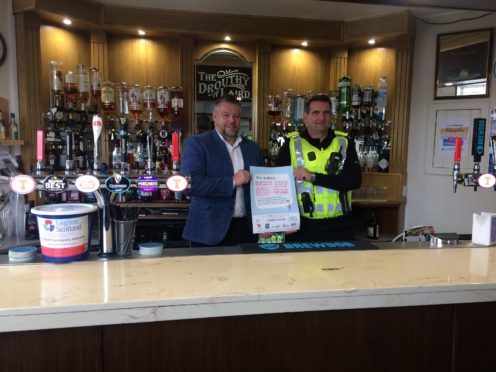 Landlords have welcomed plans to extend a scheme designed to keep revellers safe.
Ask for Angela was launched in Aberdeen last March, with 25 pubs and clubs signing up.
The scheme, organised by Rape Crisis Scotland and Police Scotland, allows anyone feeling uncomfortable during a romantic encounter to go to the bar and ask staff for the fictional "Angela".
The code-word prompts bar staff to call a taxi, or help the person leave discreetly.
For help on bad dates Ask for Angela- council tells Aberdonians
As revealed by the Press and Journal last week, the scheme has proven so successful it is now being rolled out across Aberdeenshire and Moray.
Posters have been provided to all licensed premises throughout the north-east for display, and staff will be briefed on how to handle any cases.
Wayne Gault, of Aberdeenshire Alcohol and Drugs Partnership, said: "The Ask for Angela scheme is yet another example of responsible alcohol retailers recognising the risks that excessive alcohol consumption can bring, and are doing something positive to minimise those risks for the benefit of their customers, their business and their community."
Landlords Lesley and Laird Parker, who run the Drouthy Laird in Inverurie, added: "It's reassuring for the public – particularly in the run-up to Christmas when there's lots of people who don't go out a lot during the year. They then drink too much, and they almost forget who they are and their behaviour is quite appalling."
Licensing constable Kevin Fyfe said Ask for Angela could be used by anyone on a night out who becomes uncomfortable, or fears for their safety.
He said: "It's for anybody who's out there, male, female, young or old.
---
>> Keep up to date with the latest news with The P&J newsletter
---
"If you feel unsafe, you know you can speak to the bar staff.
"Attitudes have changed – what might have been seen as a bit of banter before is now not acceptable."
Paul Johnson, of Moray Drug and Alcohol Partnership, added: "Members of the public have a right to enjoy visiting pubs, clubs, and bars, without being subjected to unwarranted and inappropriate advances or behaviour from others."