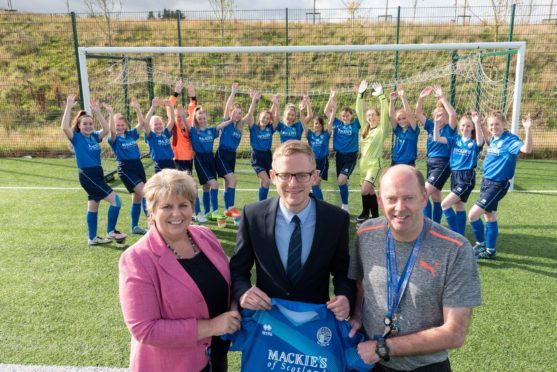 A women's football team looks poised to join the "sundae league" after scooping a sweet donation from a north-east ice cream maker.
Alford Academy's female side has taken delivery of £800 worth of new strips which have been designed and paid for by Mackie's.
The dairy producers decided to make the gesture after learning that both the women's and girls sides were sharing the same kits.
Head of PE Brian Cruickshank said the welcome contribution came at a time when women's football is making strides in the traditionally male-dominated sport.
He said: "Just having the one set wasn't ideal, it meant the girls couldn't train or have matches at the same time and it was an all-round inconvenience that was slowing things down.
"With this very generous donation we don't have to worry about these logistical complications.
"The last thing the girls wanted to be thinking about was whether their kit was clean and dry in time for their games, after it was used by the junior team."
There are 35 girls in the football team at Alford Academy and the women's team – which is made up of girls in S4 to S6 – counts for 18 of them.
Commercial director at Mackie's, Stuart Common, said: "We work with Alford Academy as part of a youth workforce partnership, so we know the school well.
"I went along to see the girls' first match with their new strips and it was just great to see the smiles on their faces when they stepped out onto the pitch in their new gear.
"They are a talented bunch and we're proud to keep our young, local sportspeople on the front foot."