An Aberdeenshire animal charity has created a video capturing its record-breaking summer months.
The New Arc sanctuary, near Ellon, tended to 541 animals of more than 50 species during a packed three-month spell.
The outfit has now shared an insight into its work by posting a video on its Facebook page depicting the various acts of kindness volunteers have carried out on behalf of the region's animal population.
The footage shows birds being released back into the wild after being nursed back to health and other critters being looked after.
It also shows some of the media coverage which has accompanied some of the more attention-grabbing cases it has dealt with, such as a wounded gull which was found to be more than 20 years old and an injured osprey which landed at the centre.
There is also footage of an overweight hedgehog named Arbuckle, which was reckoned to be the world's fattest of its kind when it arrived at New Arc in June.
Earlier this week, it emerged that the plump creature's new healthy lifestyle was paying off as Arbuckle has gone from weighing 2.335kg to 1.740kg during his time at the centre.
The video then highlights the story of Kirby, a badger which was rehabilitated and released into the countryside after being hit by a car.
Charity founder, Keith Marley, said the clip had been created to show off the variety of animals it helps.
He said: "It has been a busy year, and we are still taking in two or three animals every day at the moment.
"Though we don't, by habit, film everything we do we just wanted to document that.
"But we do have a nice selection of footage and it was quite surprising to see it all together."
Mr Marley voiced hopes that the short film could inspire more people to donate money towards the cause.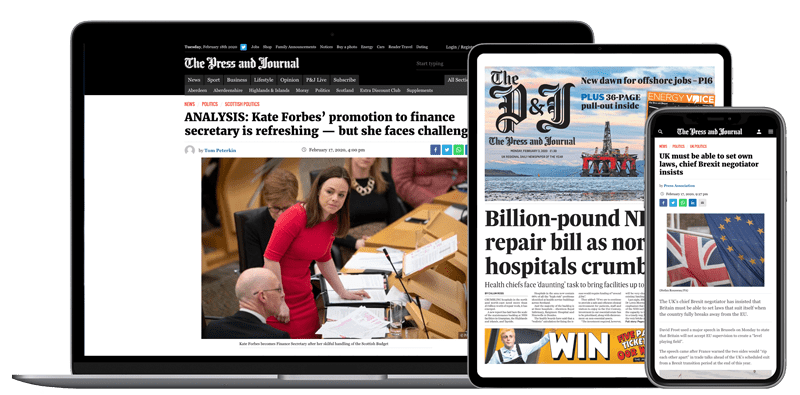 Help support quality local journalism … become a digital subscriber to The Press and Journal
For as little as £5.99 a month you can access all of our content, including Premium articles.
Subscribe