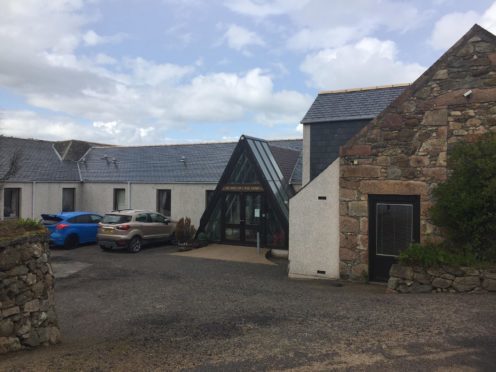 The shocking level of mistreatment pensioners were subjected to by "cruel" workers at a north-east care home has been revealed by inspectors.
Muirhead Care Home, near Alford, was forced to shut down – with its 31 vulnerable residents relocated – when experts decided their lives were at risk due to its poor standards.
The Care Inspectorate has now published the harrowing catalogue of misconduct which inspectors discovered in late July, and which led to the closure of the Aberdeenshire facility the next month.
Last night, an Aberdeenshire politician said the report should act as a warning to other care providers but the daughter of one resident defended the employees alleged to have mistreated the pensioner.
The report details incidents where one woman, who was wearing her shoes on the wrong feet, soiled herself and was left unattended and upset until a concerned inspector requested that she be helped.
Another vulnerable resident was tormented by uncaring workers, who deliberately withheld an item of comfort from her when she was in a state of distress.
Inspectors said the incident was "an act of cruelty".
And thick belts were used to restrain pensioners in chairs, despite some being "extremely distressed by being unable to move".
---
>> Keep up to date with the latest news with The P&J newsletter
---
The damning dossier, which was published online yesterday, states: "We were concerned by the indifference of staff to the distress of residents.
"We saw one resident who had their shoes on the wrong feet, who had been incontinent in the lounge. This resident was distressed.
"Staff did not respond to support the resident or notice their incontinence.
"Inspectors had to intervene before the individual was supported to change."
Inspectors also heard staff conduct conversations that "could have caused embarrassment to residents and showed no respect for the seven residents who could overhear".
The report added: "Two residents who were clearly distressed were ignored rather than given support or comforted.
"Two residents were constrained in their chairs through use of thick belts.
"This was undignified and distressing for the residents and this was not good or expected core practice."
The home was graded as "unsatisfactory" in each of the four marking criteria used by the Care Inspectorate.
The report concluded that the "life, health and wellbeing" of residents was at risk and an application was made to Aberdeen Sheriff Court to cancel its registration.
Scottish Conservative MSP for Aberdeenshire West, Alexander Burnett, said he hoped the unfortunate saga would serve as a warning to other care homes.
He said: "This report makes for difficult reading, and it will be particularly hard for those who had relatives at Muirhead.
"The findings suggest there are lessons to be learned, and it should serve as a warning to other homes to maintain the highest standards at all times."
Staff were called to a meeting in August and told they had lost their jobs.
The inspectors were called in by a former member of staff, Ashleigh Wood, who decided that action was needed.
The 22-year-old, who had been employed by Lawson Muirhead Ltd since leaving school six years ago, said: "We thought we would be helping the residents by phoning the Care Inspectorate – that by kicking up a fuss we would make the place better."
But last night, one woman whose mother was a resident at Muirhead defended the home and said she had no complaints about it.
The woman, who asked not to be named, said: "I am supportive of staff, the only harm that has come to my mother is through the upheaval of being moved to another home at this stage in her life.
"I trusted the staff then and I still trust them now, I have no idea how this has happened."
---
Staff at the crisis-hit care home previously spoke out about the years of alleged mismanagement, and the "devastation" left in its wake soon after the last of the residents moved out in August.
One care worker, Ashleigh Wood, had been employed by Lawson Muirhead Ltd since she left school six years ago.
The 22-year-old said: "We thought we would be helping the residents by phoning the Care Inspectorate – that by kicking up a fuss we would make the place better – we didn't want it to close.
"They've been running the place down for years."
Another worker, who did not wish to be named, said she had worked at Muirhead for 16 years.
She said she felt as if her "soul had been ripped out" after watching residents she had cared for being relocated to to other facilities.
And another member of staff said the home had provided a "real sense of family", and that she would miss all the residents "terribly".
She added: "None of them wanted to go – it was dreadful to watch them being taken away."