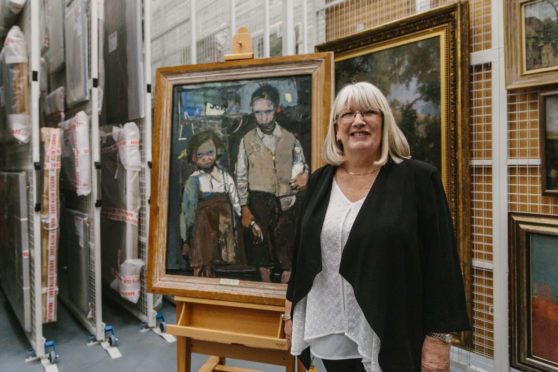 A woman had an emotional reunion with a painting of her and her brother created by a famous Scottish artist 63 years ago.
Margaret Livingstone was the subject of Joan Eardley's famous Brother and Sister painted in 1955.
And yesterday she came face-to-face with the work at Aberdeen's Treasure Hub in Northfield, where it will be stored until it can be displayed in the renovated art gallery.
The artist is well known for her seascape paintings of Catterline, where she lived in the latter years of her life.
However, her artwork from her years in working class areas of Glasgow is also celebrated.
Margaret, who now lives in Essex, and older brother Alan lived in the Townhead area of the city when Eardley painted them in 1955.
The children were largely left to fend for themselves while their mother worked at the local "steamie", and Margaret – who described herself as a "wayward" child – was taken into care shortly after this painting was made.
She lost contact with her mother and brother for many years and was fostered by a family Kilmarnock, before spending a year at the King Street Home for Girls in Aberdeen.
Yesterday she was visibly moved when she saw the painting, with the memories of her turbulent early life brought flooding back.
She said: "I was incredibly moved when I saw the painting in the flesh for the first time today.
"I was so pleased that my daughter and grandson were here with me for this very special moment.
"I always felt that my family started with me, but seeing the painting today was a bridge to the family I lost. I've already decided that I need to come back to see it again next year when it's hanging in Aberdeen Art Gallery."
Mrs Livingstone first became aware of the painting when she reconnected with her mother and sisters in Swindon in 1985.
Many years later her daughter Suzanne discovered the painting was being displayed in London having been loaned by the art gallery.
Joan Eardley was born in Sussez but was trained at Glasgow School of Art and later moved to south Aberdeenshire.
A Historic Environment Scotland plaque was unveiled in the coastal village in tribute to her at the beginning of the year.