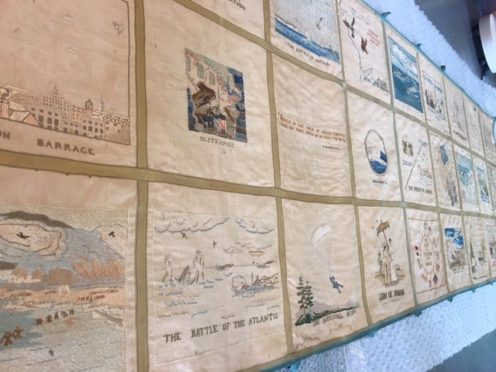 A unique tapestry created by north-east women's institute members in the 1940s has been discovered nearly a decade after it went missing.
Featuring intricately detailed scenes from World War II, the handmade piece was put on display across the region to raise money for charity Scottish War Blinded.
It was even viewed by The Queen in 1946 when she visited Scottish Women's Rural Institute (SWRI) members in Deeside.
The tapestry includes depictions of major events from the period including the Dunkirk evacuation and the arrival of Rudolph Hess, when Hitler's deputy was mysteriously parachuted into Scotland.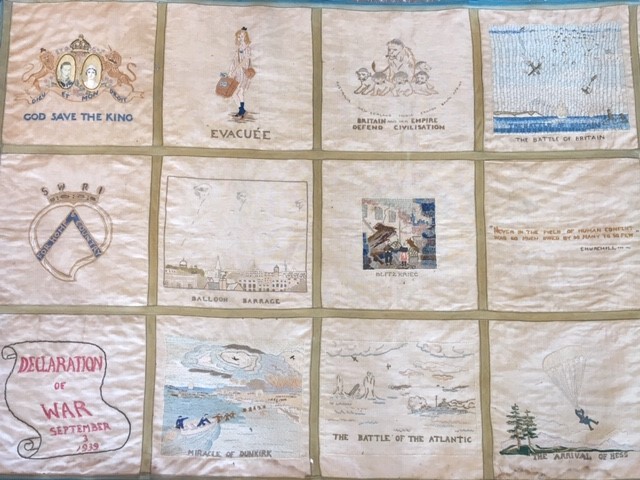 After touring Scotland, the artwork eventually ended up in West Lothian but vanished from the charity's base there during the construction of the Linburn Centre activity workshop for veterans with sight loss in 2009.
But staff have once again unearthed it and work is already under way to reverse the discoloration and water damage it has suffered by spending years stuffed in storage.
Rebecca Barr, Scottish War Blinded director, said: "We are very excited to have found this beautiful tapestry again, after believing it had gone missing during the development of the Linburn Centre.
"It is wonderful to see how the talents and efforts of the women were utilised to support blinded servicemen, and we're honoured to now be able to preserve this unique piece of history for future generations.
"Some of the veterans we support today served their country during this conflict and now have age-related sight loss.
"We are looking forward to sharing this artwork with them and gathering their memories of the period."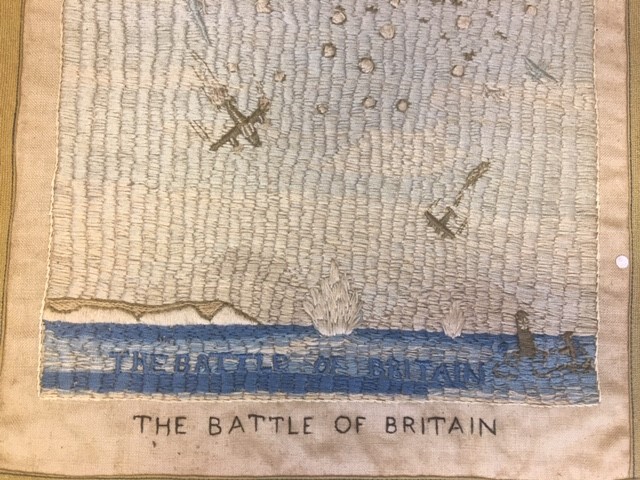 Each of the images were painted on linen by a woman named Leslie Smith, before being hand-stitched by members of the Denmore SWRI.
Linda Retson, the national chairwoman of Scottish Women's Institutes, said: "SWRI members created a detailed and intricate work which is a lasting testament to their talents, resources and creativity.
"They used their artistic flair to tell a story, capturing many of the key points and famous episodes of the war.
"Their involvement in this project also reflects their public-spirited attitude, seeking to use their flair and expertise to raise funds to support those whose lives were irrevocably changed by war."
The tapestry will now be preserved by Tuula Pardoe from the Scottish Conservation Studio.
She said: "I haven't seen anything like it before. I'm sure I can improve its appearance and preserve it.
"I believe once it's cleaned, remounted and reframed this embroidery will have a bright future ahead."