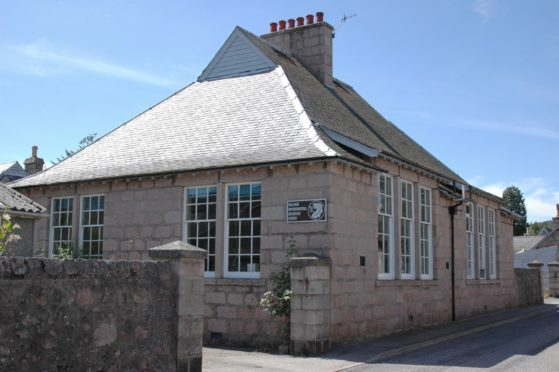 The managers of a housing association have been branded "arrogant" after winning an appeal to build affordable houses on the site of a Victorian school in a Royal Deeside community.
The Grampian Housing Association application to build 26 affordable houses in Ballater was initially rejected amid concerns over a lack of amenities and road safety.
But an appeal was then lodged with the Scottish Government which has overturned the decision.
Now the C-listed main school building, which dates back to 1877, will be turned into 12 houses, with three new houses and 11 flats being built alongside it.
But last night Deeside councillor Geva Blackett blasted the association for being "incredibly arrogant", she added: "The whole community was against them and the Cairngorms planning committee was against them.
"For a social housing builder to go over all those heads and appeal – it's appalling.
"Something is wrong with a system when a community can say it doesn't want a particular application, yet a government reporter who does not live here can overturn all our concerns with a stroke of a pen.
The application had been called in by the Cairngorms National Park Authority, but was thrown out amid concerns about the density of properties on the site, lack of amenities and road safety.
---
>> Keep up to date with the latest news with The P&J newsletter
---
However, Scottish Government reporter Chris Norman granted the conditional appeal after concluding that there were "no material considerations" in refusing permission.
Certain landscaping, lighting and refuse collection requirements will have to be met. In addition, tree, swift and bat protection plans must also be approved before any building can start.
The decision has angered Ballater and Crathie community council members who are holding an emergency meeting tonight to "discuss options".
Chairman Jim Anderson last night said: "It's not the outcome we were hoping for but we need to look forward and try and get something that suits everyone.
"We launched our CAP (Community Action Plan) earlier this year and the number one priority is affordable housing for those currently living in Ballater. Unfortunately, this development does not address that, as only people wishing to move to Ballater will benefit."
Grampian Housing Association's chief operating officer, Craig Stirrat, last night said: "We would be happy to discuss our plans further with Ballater and Crathie community council.
"We are pleased that planning permission has been granted, as this will not only provide much needed affordable housing for those living in Ballater and the surrounding area but will also bring back into use a listed building which has been empty for many years."
The first residents are expected to move into the new development in late 2019 or early 2020.
Alexander Burnett, Scottish Conservative MSP for Aberdeenshire West, said: "There were very good reasons why this application was rejected in the first place.
"Local residents will understandably be angry that those concerns appear to have been dismissed on appeal.
"Unfortunately, this reflects a growing trend of local decisions being overturned at a national level.
"We are seeing this far too often under the SNP Government. Decisions like these are making a mockery of the local planning system."