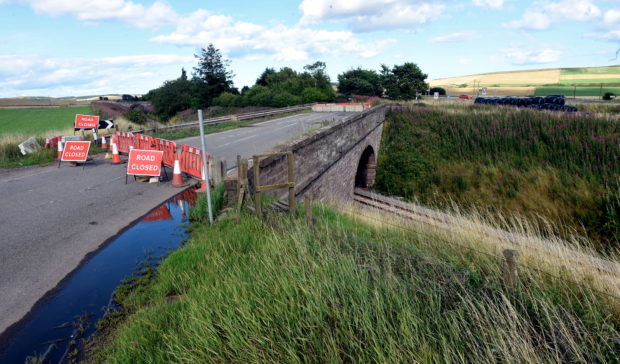 A Mearns bridge which could collapse onto a stretch of rail line is to be demolished over Christmas Eve, Christmas Day and Boxing Day.
The crumbling 170-year-old Abbeyton bridge carries the B966 across the rail line and is threatening the safety of trains.
The bridge has been closed since July after inspections found serious structural failings in the stonework.
A one-way system was previously introduced to reduce strain on the bridge, but a recent assessment of its condition concluded that had not prevented it from falling deeper into disrepair.
Specialist contractors will spend 55 hours demolishing the structure just north of Fordoun, starting at 10pm on Christmas Eve after the last train of the day.
Work will continue on Christmas Day and Boxing Day when no trains are scheduled to run, to minimise disruption to rail users.
It has previously emerged that an emergency closure of the railway could cost the council around £1 million to £3 million per day to cover disruption to rail services using the line.
The cost of the demolition alone is expected to be between £500,000 and £1 million, with the higher figure representing one third of the council's £2.8 million annual budget for bridges and other structures.
This will delay planned works on other bridges and structures which may deteriorate further in the interim.
Mearns SNP councillor Leigh Wilson said: "Scheduling the works over Christmas while services aren't running is the most sensible decision because it minimises the disruption to railway users and it also minimises the cost to the taxpayer.
"The Mearns is in a difficult position because we have such a high concentration of old bridges here and a lot of them are reaching the end of their lifespan."
The specialist contractor will work alongside council engineers to dismantle the bridge.
At this time no decision has been taken as to whether or not Abbeyton Bridge should be replaced.
Aberdeenshire Council's bridges manager, Donald Macpherson, said: "The only way to remove the risk posed by this bridge to the railway line below is to remove the bridge itself, as it cannot be repaired.
"Given the potential financial implications an unplanned closure of the line would have, this has to take place on Christmas Day and Boxing Day, when no trains are scheduled to run."
A spokesman for Network Rail said the Christmas holiday would mean no impact on rail passengers.