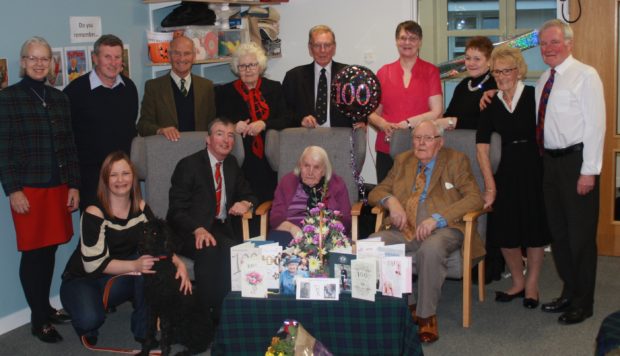 A Second World War veteran marked a momentous occasion by blowing out the candles surrounded by loved ones.
Leonie Gordon, who served as a cook for the RAF during the war, turned 100 at Balhousie Care Home in Huntly this week.
She was presented with a card from the Queen from the Lord Lieutenant, while surrounded by family and friends.
Born in Strathdon, Ms Gordon was the second youngest of five children.
She joined the air force as a cook and made hundreds of meals a day for the duration of the war.
After the conflict was over, Ms Gordon got a job with the South-Eastern Electricity Board in Faversham.
She did not marry or have any children but considered her dogs and cats her family.
After she retired she enjoyed gardening and growing fresh fruit and vegetables, a hobby she continued when she moved into the home.
John Hamilton, manager of the facility, said: "From her very first days with us Leonie became a treasured and valued member of our small community and we would all like to join in congratulating Leonie on the wonderful landmark.
"Special thanks to all Leonie's extended friends and family for their support in helping us meet Leonie's needs."
Tanya Smith, activities co-ordinator said: "Leonie has been a joy to care for over the past five years of living here at Balhousie Huntly. Seeing her so happy and full of joy on the occasion of her 100th Birthday has been so lovely to see.
"I wish Leonie many happy returns and look forward to spending more happy and fun times with her over the festive period."